As summer fades and fall arrives, it's perhaps time for a change of scenery in your reading selections. Turn the page with NH writers.
Deep Water
By Kenneth Sheldon
In the waning days of World War I, William K. Dean was brutally murdered, his body hog-tied and dumped in a rainwater cistern on his farm in the quiet town of Jaffrey. Suspicion quickly fell on Dean's wife, an invalid in the early stages of dementia. Her friends, outraged at the accusations, pointed instead to a former tenant of Dean's, whom many suspected of being a German spy. Others believed that Dean's best friend, a politically powerful banker and judge, was involved. Deep Water is based on extensive research into the Dean murder, including thousands of pages of FBI documents, grand jury testimonies, newspaper accounts, private correspondence, and the archives of the Jaffrey Historical Society. Kenneth Sheldon is a freelance author, editor and playwright. His work has appeared in publications ranging from Acoustic Guitar to Yankee Magazine, where he was formerly a columnist. His book Welcome to Frost Heaves, a collection of Yankee humor, was published in 2015. He lives in Peterborough.
My Mountain Friend
By Mary Ellen Humphrey
My Mountain Friend: Wandering & Pondering Mount Major, is a memoir about hiking Mt. Major over 1,000 times. In this book, former New Hampshire state Sen. Humphrey shares her story of how this hiking trail changed her perspective and helped her make sense of life's challenges.
"The nature of things is change. Hiking Mount Major taught me this. Every hike is unique and special. Ambient noises, smells and sights vary from season to season in the snow, wind and rain," she writes. "For over ten years I traversed Mount Major every chance I got. Hiking solo offered me a chance to find peace and the strength to face life's difficult problems. It's where I learned to be grateful for the truly wonderful things in my life, and where I went to sort out my thoughts, to celebrate, and sometimes to grieve."
All the Flowers of the Mountain
By Christina Holbrook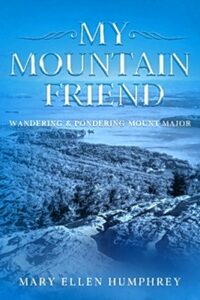 In a Paris art gallery, Dr. Michael Pearce comes upon a sculpture by the artist Katherine Morgan. His discovery of the vivid bronze artwork sends Pearce reeling back into his past. Devastatingly lifelike, the sculpture evokes memories of a summer many years earlier when Michael and Katherine – "Kit" – met as teenagers by a lake in New Hampshire. He was a small-town boy who skied, played guitar, and was destined to run his father's hardware store; she was the restless, troubled daughter of a wealthy New York family. Set amidst the mountains, farmlands, and elegant summer homes of rural New England, All the Flowers of the Mountain is the story of a pivotal summer for Michael and Kit. Michael's ambitions are ignited by this young woman – he grows determined that their future will be together. But Kit dreams of becoming an artist and her struggle with a mysterious event from the past leads her to a deadly showdown by summer's end, and decisions that will break Michael's heart.
A native of New York and the White Mountains of New Hampshire, Christina Holbrook now lives in Colorado with her husband. Holbrook's column Lark Ascending ran in the Summit Daily in Frisco, Colorado, from 2016 through 2020. More recently, her short fiction and essays have appeared in numerous literary journals and anthologies. All the Flowers of the Mountain is her first novel.
Hope … and the Hedgehog
By Tom Vaughan
Described as "pocketbook philosophy for the present age," it is a digestible exploration of the meaning of life which aims to unpick the big questions most of us spend our lives avoiding: how did life begin, how does it end, and what happens to us after we die? Author Vaughan's life has come full circle from his first career as co-founder of the successful chain of Juliana's discotheques, which he started in the '60s and grew to be the world's largest entertainment group of its type at the time. With no scientific, philosophical or theological training and few school qualifications but armed with heaps of life experience as an entrepreneur, he switches gears to take on the role of "everyman philosopher," creating a new book that makes people stop and think. He divides his time between homes in the UK and Wilmot, New Hampshire.
The Boy Who Loved Maps
By Kari Allen
Concord author Kari Allen has released her debut novel on finding the perfect place. One little girl in The Boy Who Loved Maps envisions her perfect place to be a "toes-in-the-sand-warm, X-marks-the-spot-place filled with treasures, where it smells like her birthday and she can zip around like a dragonfly"! But does a place that is all of these things exist? One talented Mapmaker is determined to find out … and it might not be as far away as we think.
The Mapmaker loves maps. He loves to collect them, to study them, and most of all, he loves to make them. But when a girl asks for a map of a perfect place, the Mapmaker is perplexed. Surely, her described perfect place can't exist … can it? Well, after a fun-filled day of exploring the neighborhood, the Mapmaker will discover that the perfect place – home – has been right in front of him all along.
This enchanting picture book helps readers appreciate the charms of their own neighborhood – and even shows them how to make a map of it! This heartwarming story is paired with illustrations from G. Brian Karas.
If We Could Get a Dog
By Susan Lynn Ford
This fun and exciting children's book is about how a family decided together to adopt a little brown dog!
If We Could Get a Dog … Henry Finds His Forever Home is about adopting a dog, and the preparation, thought, and consideration that goes into that decision. Emily's story is entertaining but can also help initiate important discussions about getting a pet before taking that step.
Susan Lynn Ford of Center Harbor has been an animal lover all of her life. Ford started riding horses as a young girl and has owned horses, dogs, cats and birds. Ford has three rescue dogs and two rescue cats. She and her husband volunteered at the "farm" referred to in the story, which is where they found Henry, the subject of the story.
(Book descriptions submitted by authors or publishers.)