According to The Greater Meredith Program website, the Meredith sculpture walk had humble beginnings with "sculptural additions to the brCourtyard on Main Street". But the number of sculptures has been expanded to create the Meredith Sculpture Walk which now features 23 (with one future installation planned) magnificent works of art that highlight the many talents of artists from all over New England. It also happens to make a great trip for art enthusiast, families and anyone who likes the outdoors. Here are our 4 favorites: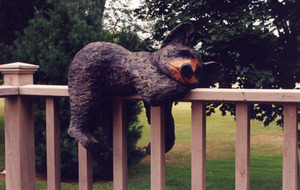 Railing Sleeper Bear Club – 48 Main Street (Grad Building Porch)- Tree Carving
Justin Gordon, Groveland, MA
Every "chainsaw artist" carves bears. But most of them had something missing and that was humor. I decided to combine my fine wood carving skills, chainsaw carving, and a sense of humor in my posed bear cubs. This cub carving is called the "Railing Sleeper". He's made for the specific railing he's mounted to. He's also finished with hand tools for better details.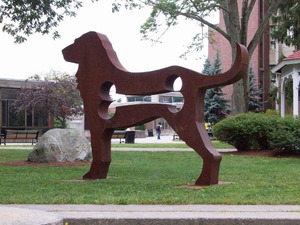 American Dog – Main and Lake Street – Cor-Ten Steel
Dale Rogers, Haverhill, MA
The American Dog has proven to be my strongest and most iconic sculpture to date. The profile of the dog is very much of a muttigree, but I have had many people tell me it looks exactly like their particular breed of dog. It strikes a strong emotional pull with many clients.
Therefore, when I started to contemplate the idea of creating a large-scale public art exhibit, my American Dog made the most sense for choice of sculpture. Historically, dogs have made positive and lasting impressions with people and I hoped that my sculptures and the exhibit would do the same.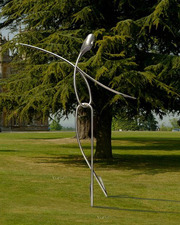 Toe Dancer – Hesky Park (Grassy Knoll) – Stainless Steel
John BonSignore, West Redding, CT
The design of my sculpture begins with a broad concept: a place, person, animal or emotion. The process in my work is to capture that singular core that makes any place, feeling or living thing what it is. My sculptures become the physical representatives of the essence of the subject. A toe dancer appears so unapproachable, yet she emanates a fantasy of desire. As an art form, I envision the toe dance as an interpretive composition of life and experience, through what I refer to as "still motion".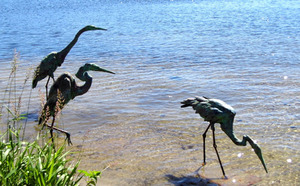 Heron Series – Lago Beach (before the walkway)
Roger DiTarando, Vernon, CT
Roger DiTarando is a sculptor of singular craftsmanship and inventive precision who uses a variety of techniques in his unique sculptures. His high level of technical skill coupled with his attention to detail and insight into the unpredictability of nature allows him to elevate a static moment to one of fluidity and movement. He has spent the last thirty years forging a reputation as a traditionalist who breaks the rules as well as an innovator who pays homage to the past.
See all the sculptures at www.greatermeredithprogram.com/map.html. Which is your favorite?