Charm Emiko, founder and director of ProjectSTORY (which stands for Supporting Talents Of Rising Youth) is dedicated to empowering and supporting New American youth in Concord. Charm is excited to see the Concord area become a home for diversity and hopes people will continue that work by embracing and celebrating growing diverse communities, talking to neighbors, and supporting local businesses. Along with fellow ProjectSTORY leaders Fisto Ndayishimiye, Fred Nshimiyimana, Frank Mucyo and Junior Mtunipesa, Charm shared some of the places that are important to them and the communities they serve.
Keach Park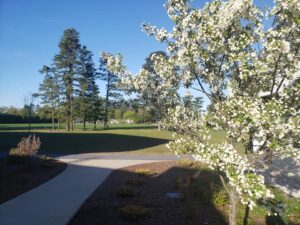 It's the central location for all our work and a place where young people and their families frequently gather. Our kids use the big fields for soccer and running, the basketball courts and pool, and the beautiful shady trees for reading during our summer leadership camp. A favorite is the community mural, a recent addition and collaboration between local artists, the community, and our ProjectSTORY kids.
Kathmandu Bazaar
The Asian and African market and restaurant up on the Heights is run by local Nepalese families. All of the food is authentic, fresh, and homemade. My favorites are the samosas and momos. Having ethnic food close by is important to us, and our members, because it allows them to express themselves and connect with their culture, all while feeling closer to home.
Overcomers Refugee Services
Led by executive director Clement Kigugu, this is a favorite place to seek support, guidance and familiar friendly faces. Overcomers has been instrumental in offering support as we continue to grow and empower more young people. We're proud to serve over 80 New American youth in Concord. We also join with Overcomers for many events throughout the year
Bank of N.H. Stage
Led by director Sal Prizio, this holds a special place in our hearts because it featured our first big public event, New Americans Got Talent. (This will become an annual event, so stay tuned!) Our young people were able to showcase a variety of talents and compete for prizes on the big stage in a professional atmosphere. This event brought the community together for an evening of talent, diversity, and fun.
Kimball Jenkins School of Art
We've been included in campus art events throughout the year and were featured in Mawouko Aboussa's art show last spring. Kimball Jenkins Art Camp scholarships provide opportunities for us to visit during the summer, and we enjoy this beautiful estate and the kind and amazing directors and staff. They've created a safe space for BIPOC communities, and I enjoy bringing our ProjectSTORY family to an environment where they feel welcomed and appreciated. Our kids are subjected to racism every day, so we strive to empower and educate our youth in a safe and respectful way.