Concord gained some outside recognition – for its outdoor recreation – in the winter of 1962. White Park, in particular, had long buzzed with winter activity from speed skating and ice hockey to sledding and skiing to match its baseball and other summer pursuits. the incomparable Betty Abbott of the recreation department was responsible for much of it.
Once again in 1962, the recreation department put on a Winter Carnival, based primarily at the park and at Snow Pond, a spot in east Concord where a generation of skiers grew up tussling with a couple of slippery rope tows that hustled them up the hill, all the while doing a number on their mittens.
Flying saucer and sledding contests, hockey games and Silver Skates events, were set for White Park one late January weekend. The next weekend, the action switched to the Kibby Slopes at Snow Pond for a giant slalom race and ski jumping meet for kids and adults, all sponsored by the Concord Ski Club.
The New York Times took notice early in February with a story headlined "Winter Olympics – Family Style" in its Sunday magazine.
"There have always been winter sports of some sort and there have long been winter carnivals on a somewhat showy and commercial basis," the story began. "But in recent years, there has been a burgeoning of carnivals of, by and for the townsfolk themselves – all ages and kinds. They might fairly be called Winter Olympics – Family Style. Some fifty communities in northern New England now have them, and the number is growing.
Concord is one of the larger centers that put on such events and it goes all out, requiring two weekends to fit in all the items from 'flying saucer' races to Old Timers skating, plus two dances and the selection of a Queen. Community interest is intense: the city's department of recreation and parks, the Junior Chamber of Commerce, the schools, the merchants – all pitch in."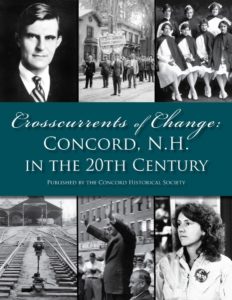 This excerpt was part of Chapter 7: On the Ball in "Crosscurrents of Change." This 400-plus page hardcover edition introduces you to the people who helped shape a city, and it takes you through tragedy and triumphs with some of the defining moments in Concord history. To purchase a copy or to learn more, visit concordhistoricalsociety.org/store.