Concord now has three microbreweries, each with its own flavor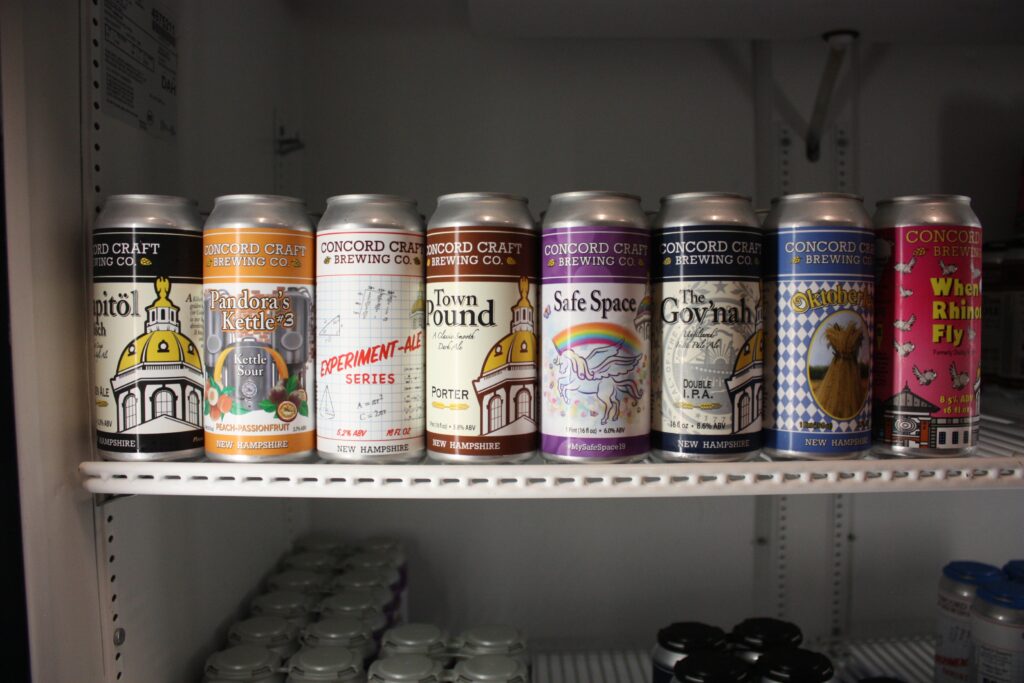 Not so long ago, Concord was devoid of any New England-style double IPAs made right here in the city. Extra-hoppy lagers and fruity sour ales were exotic drinks made in far-away breweries that only arrived here by truck.
Sam Adams, brewed in Boston, was considered a local beer.
Those days, thankfully for many craft beer enthusiasts, are gone. The Capital City is now home to three different micro-breweries, each with its own atmosphere and flavors to offer.
Concord Craft Brewing, which opened in 2017 with three beers on tap, is right downtown in the heart of the action. This year it opened an expanded taproom and renovated kitchen and features 16 beers on tap.
Like a refreshing oasis in the midst of an industrial park on Hall Street, the walls of Lithermans Limited Brewery are decorated with artwork from their music-inspired beer names, like Ground Control, LL Cool Haze, and Pils to Pay the Bills, to name a few. Speaking of music, the taproom is bathed in classic hip-hop sounds from the 80s and 90s, which offers a different sonic landscape in the city.
Feathered Friend on South Main Street is the newest addition to the Concord beer scene and sets itself apart by its unique partnership with Smokeshow Barbeque inside the same building.
Here's some more refreshing information about Concord's three brew houses and what makes each unique.
Birds of a feather
Tucker Jadczak, founder of Feathered Friend, has beer in his blood. After all, he said his great grandfather was one of the first men in Massachusetts to embrace beer sales after the end of Prohibition.
Five years ago, Jadczak quit his corporate job and decided to devote his time and energy to a new business venture in order to keep beer in the family.
"My father and I spent the better part of a year and a half building the bar, doing all the walls, the floor space, and transforming it to what it is now," Jadczak said.
He has been offering varied liquid creations to wet the whistles of his fledgling customers.
"We really pride ourselves on doing unique things and making sure that the flavor profiles of each of our beers are very different," Jadczak said. "We've only made a handful of beers, like two or three beers, twice. The rest of them have all been new recipes that we're testing out to see what people like, so we're kind of still finding our flavor."
As a brewery that runs on a 7-barrel system, rather than a 15-barrel system, Feathered Friend has the ability to experiment and make a wider variety of beer than other breweries.
"In the span of time that we've been open, a brewery that's a 15-barrel system would probably be able to only do half as many types of beer as we have and it just gives us a little more flexibility to play around with flavors and see what people like and then make more of that beer," said Jadczak.
Feathered Friend, which opened this year, has already experienced a steady stream of customers checking out what's new.
"I think the atmosphere that we offer is a lot different than most places in and around Concord," said Jadczak. "We're trying to make it something new and exciting for everyone that loves beer, honestly. Our whole brewery is open concept so the tasting room has a lot of wood in it and the back space is all industrial so you can see all of the brewing area from the tasting room and it's kind of a nice little rustic-meets-industrial-space."
The brewery hosts events and live music on Saturdays to maintain the high energy and positive atmosphere that pumps through the veins of the taproom.
Feathered Friend is located in the same building as Smokeshow Barbecue, making it a great place to not only be able to enjoy beer, but food and friends.
"They make food, we make beer," said Jadczak. "People will usually grab food from them and bring it over to our side so we let people bring in food from the barbecue restaurant or any other restaurant in town and they can sit down and eat while they have beer."
The consistent stream of beers on tap speaks volumes to the company's philosophy.
"If you like trying a variety of different beers that are made in a lot of unique ways then this is the place to go," Jadczak said.
The vibe at Lithermans
Lithermans Limited, a brewery that has been open in Concord since 2016, is all about the vibe.
Stephen Bradbury, owner and director of brewery operations at Lithermans Limited, aims to make each person's experience the best that it can be, from the beer, to the music, to the tasty morsels sold from the food trucks outside.
"We're always looking at improvements in the process, in the recipe development, and in our sourcing of ingredients," said Bradbury.
One thing he's done is require servers to become "Cicerone" certified, which is a program that helps employees gain important basic knowledge about different styles of beer as well as proper ways it can be served.
"When customers come in here they're going to get proper glassware, the beer is going to be served with the proper carbonation and temperature, and customers can gain some additional knowledge while they're here visiting the brewery," Bradbury said.
Lithermans Limited's reach into the community goes beyond its facility. The brewery partners with various programs throughout the year in order to support local foundations and raise money for causes across New Hampshire.
"We're always working with local charities or groups," Bradbury said. "For example, we just partnered with New Hampshire Artists for Autism and we're actually releasing a beer for them."
The organization ran an art contest and the winning artist was featured on the label for the Artists 4 Autism beer that was released in August.
Other collaborations included a beer called "I Will Survive," for the New Hampshire Coalition Against Domestic and Sexual Violence and a beer named "We Can Be Heroes," in honor of Concord Police, which featured their therapy dog dressed as a superhero on the front of the can.
Their flagship beer, Misguided Angel, a hazy New England Style IPA, has become a staple and is now sold at most area grocery stores.
More than anything, Bradbury wants people to feel welcome when they visit Lithermans.
"We've always got the music playing that helps inspire us to make the beer so it's always a great vibe. It's a friendly, community atmosphere."
"We've got a large indoor taproom that holds 82 people. We also have an additional outdoor seating area that is open in the summer time. We always have a rotating variety of either pop up restaurants or food trucks here. We've always got the music playing that helps inspire us to make the beer so it's always a great vibe. It's a friendly, community atmosphere."
Building their craft
Before opening Concord Craft Brewing in 2017, husband and wife team, Beth Mayland and Dennis Molnar, bonded over their shared passion for craft beer.
"I've been a home brewer for I guess about 30 years and kind of brought that into our marriage and we brewed beer for our wedding 27 years ago," said Molnar. "And when we traveled before opening the brewery, we always either looked for a brewery we could go to and try something different or looked for a place that had a bunch of local beer at it, rather than just going to a run-of-the-mill chain restaurant or something."
After witnessing firsthand what a good brewery could do to help transform a city, Molnar and Mayland believed that a brewery in the middle of the city is exactly what Concord needed.
"We didn't open it to brew any specific kind of beer," said Molnar. "We opened it to bring great craft beer to downtown Concord."
Like most breweries, Concord Craft offers a variety of IPAs, sours and lagers, however, unlike other breweries, they make it a point to keep those beers available all year round. Take the Craft's crowd favorite, "Four Rivers Red" ale.
"We've been making that since you know Day One practically and people are really excited that they can buy it year-round," Molnar said, "We kinda launched it as a St. Patrick's Day beer and there're some people that just don't like hoppy beers and don't like really heavier, dark beers … we don't sell a ton of it, but work pretty hard to make sure it's available year round."
One of their most acclaimed offerings is the award-winning Safe Space IPA, which is now giving way to spinoffs like "Safer Space" with a lower alcohol content and "Double Safe Space" which comes in with a hefty 8.7% alcohol content.
"We decided when we opened it that if someone who liked beer came into the brewery and couldn't find at least one of our beers that they liked, we were doing something wrong," said Molnar. u
You can read about current events and projects at all three breweries on their respective websites featheredfriendbrewing.com, concordcraftbrewing.com, and lithermans.beer.
Cheers.