New Hampshire authors have not slowed their pace in releasing new books. In fact, some have utilized extra time spent at home during the last two years of pandemic waves to work more fervently on their writing, some publishing their very first novel. Here are some of the latest titles penned by Granite State residents:
The Treasure of Hampton Beach
By Jed Power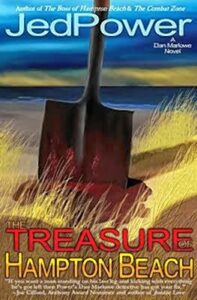 After suffering a massive stroke, renowned crime-fiction author Jed Power overcame his paralysis and wrote the eighth book in the acclaimed Dan Marlowe/Hampton Beach, crime series. Power admits that writing after a stroke had major obstacles. "Typing with one finger was the least of it," Power said. He continued, "It brought me confidence, just getting it done. In my eyes anyhow, it was an accomplishment."
There's a sickness raging through Hampton Beach, an epidemic more contagious and deadly than any pandemic virus.
Gold fever.
And Dan Marlowe — along with his friends — has been bitten by the bug. Joining the hunt for treasure are a half-mad ex-Prohibition agent, an infamous Irish Boston gang leader, and other assorted thugs. Of course, the always bumbling small-time hustlers — Eddie Hoar and Derwood Doller — have to get in on the action … along with anyone within driving distance who can beg, borrow, or steal a shovel or metal detector.
When a treasure hunter is found beaten to death, Dan has to — once again — prove his innocence while battling his own dark demons. Only this time the demons might win.
If These Flames Could Talk
By Michael Burnham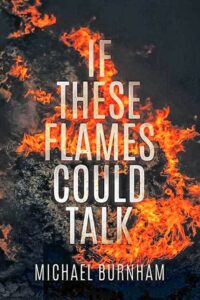 Canaan author Michael Burnham took advantage of the COVID-19 lockdown to research, write and self-publish his debut novel If These Flames Could Talk.
In the year 1999, the small Vermont town of White River Junction was shaken to its core by the violent hit-and-run killing of beloved detective and father, David Demick Sr. Years pass by without a break and the case grows cold, leaving behind a blood-soaked mystery, and a son motivated to follow his late father's footsteps into law enforcement.
When Nicole Schaffer arrives more than 20 years later to reunite with the family she left behind, a brutal murder takes place in front of her eyes, forcing the killer to drag her to his barbarous underground workshop: an abandoned cemetery vault.
With David Demick Jr. now patrolling the earth above, and victims lining the walls below, tensions blaze and a connection linking Nicole to the town's dark history surfaces. Beneath the chaos lies the impossible task of helping her captor solve the infamous cop killing, or feed his hunger to cure the afflicted.
Will Nicole find a way out of her subterranean prison, or suffer a dance with the flames at the hands of a faith-driven vigilante?
This Understated Land
By Sidney Hall Jr.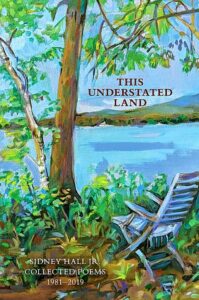 This Understated Land brings together nearly four decades of Sidney Hall Jr.'s work — more than 250 poems traverse these 400 pages. The collection contains several unpublished book-length poems, as well as translations, wedding and occasional poems, prose poems, and lyrics, arranged chronologically and providing a poetic record of a lifetime.
"I have mixed my peculiar compost into the tilled soil when it is barely warm, and scattered my poetic lettuce seed into it, throwing the newest rocks with admiration over the fence and under the stone wall," Hall writes in the preface. "I've mixed the dregs of last year's leaves and added eggshells and Emerson to the clay, and watered it with my children and my chickadees while I watched the lettuce sprout."
Hall is the founder of Hobblebush Books, an independent press in New Hampshire, which is dedicated to publishing books that feature a unique voice and make a difference. His poems have appeared in magazines and journals, in venues such as Garrison Keillor's Writer's Almanac and in a number of poetry anthologies. His book reviews also appeared in the Los Angeles Times Book Review. He was the editor of "Nestled Here," a history of the town of Brookline, New Hampshire. He is the author of three books of poems and a book of memoirs.
Dinosaur in the Park
By Jorge William Nayor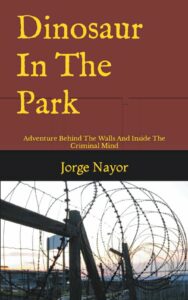 Jorge William Nayor's journey through childhood was disrupted at an early age. His schooling was below average, and his military service was tumultuous but honorable. A criminal path was inevitable but short-lived. If continued, it was a path that would have his life being just as short. Only the removal of his criminal environment and the love of a woman saved him from certain doom.
Nayor's memoir, Dinosaur in the Park: Adventure Behind The Walls and Inside The Criminal Mind, told in the third person, is an account of his numerous stays in California penitentiaries, including the infamous San Quentin.
In 1950, at the age of three, Billy's father was deported back to Cuba, which left him to grow up with only one parent on the tough streets of New York City. He was forced to grow up quickly after being molested and after an attempted abduction. To compound those frightening encounters, it was at the innocent age of 14, that he was violated by the opposite sex for his first sexual encounter. Scarred and confused, it's no wonder that Billy hung around with the wrong crowd. In his late 20s, he absconded from the horrors of a drug rehab, and eventually wound up behind the walls at San Quentin.
Billy pursues unconventional methods to mentally escape. He works within a hostile environment to accomplish thrill-seeking, daredevil hi-jinks behind high prison walls.
Nayor now lives in Manchester.
The Nomad
By Debra J. Tillar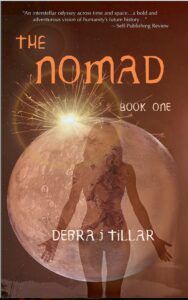 Seacoast author Debra J. Tillar has recently published a two-volume science fiction novel, The Nomad. The story is about a young female scientist who becomes involved in her eccentric family's quest to invent a time machine. An unavoidable tragedy leads her to a life-altering decision, and she now lives in a world of starships, exoplanets, and hybrid aliens. Recovering from a vicious attack on an alien world, Zara discovers her crew has abandoned her. She is held captive on a disreputable space station and must seek a way to survive and escape.
Tillar is a retired teacher, as well as a former archeologist and travel writer. This is her debut novel. The idea for the story came to her when she reread the H.G. Wells' 1895 classic, The Time Machine. Toward the end of the book, the Time Traveler names a character only once: "I seemed to see Hillyer for a moment; but he passed like a flash." Tillar wondered who the character was supposed to be, and the idea came to her that he was the Time Traveler's assistant. That idea turned into this duet of books.
Proof of Me and Other Stories
By Erica Plouffe Lazure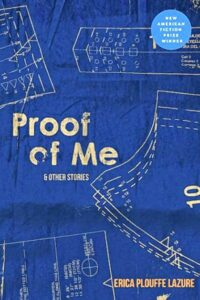 All things are delicately interconnected in these powerful and moving stories, many laced with richly textured dark humor, set in a small town in eastern North Carolina. From the rambunctious antics of an erstwhile shad queen to the guilt-throttled grief of a secret affair gone wrong, Proof of Me stitches together the lives and adventures of each of its characters, in unexpected and peculiar ways, from one story to the next.
This beautiful and masterful collection calls to mind Flannery O'Connor, Eudora Welty, Barry Hannah and others whose stories so vividly evoke the dimensionality of the American South, but the compelling and confident prose is all her own.
These shimmering and satisfying stories are the perfect companion to usher in spring.
Lazure lives in Exeter and has taught English at Phillips Exeter Academy. Proof of Me will be released March 24 with New American Press and is the winner of the New American Fiction Prize.
(Book descriptions submitted by authors or publishers.)