Welcome to autumn in New Hampshire, where the leaves star, visitors descend and the season of fairs and festivals is in full bloom. If you're looking for a place to start your exploration of this iconic season, we suggest visiting the Warner Fall Foliage Festival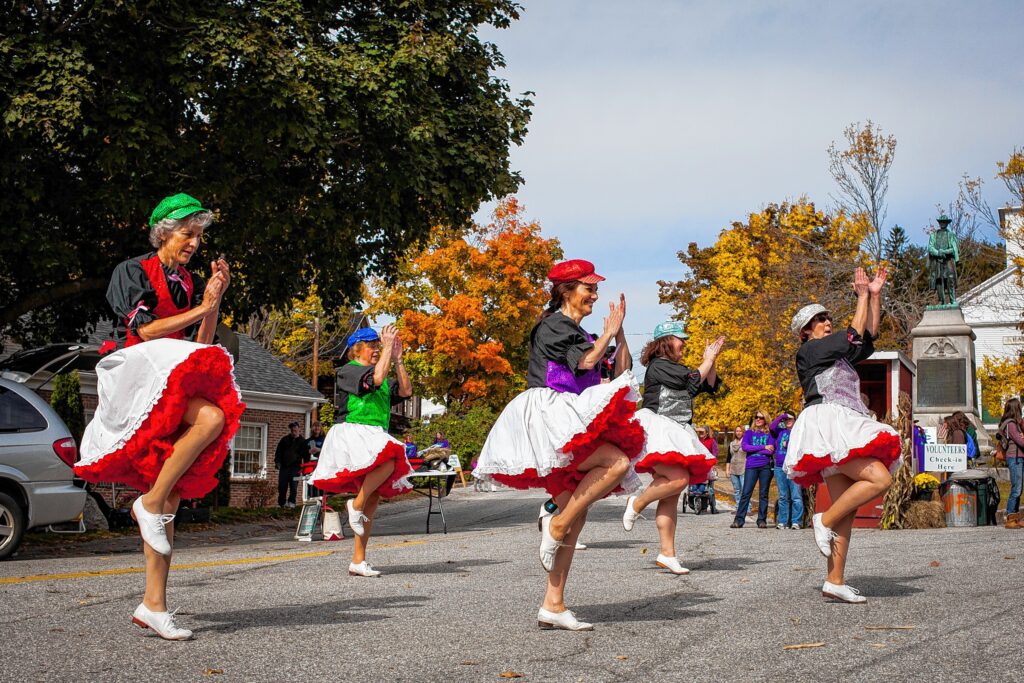 One of the cornerstones of New England fall weather is its iconic foliage. The dense reds, yellows and oranges clouding the roadsides paint a picturesque image of autumnal serenity. People travel from far and wide to admire such scenes, embracing the vibrant leaves as the temperature dips before the holidays roll around.
Among the premier places these vegetation enthusiasts venture to is the Warner Fall Foliage Festival, right in bucolic Warner. The volunteer-led event began in 1947 as a way to gather people the season before winter, where the town would see countless tourists who came to ride its 1,200-foot ski tow.
"When you move into Warner the first or second call you get is not 'Welcome to Warner' but 'What can you do on Columbus Day weekend? What are you doing?' " said Ray Martin, now president of the event. "And so I got involved."
What started as a way to get the Boston ski bus moving a couple months earlier has blossomed into a festival that regularly draws up to 10,000 people on each of its two weekend days. This year's event falls on Oct. 8 and 9 in the Warner Town Square.
"For that Saturday and Sunday it's just on a volunteer basis," he said. "There's a large number of volunteers during the festival, like 150-200 working on it."
The volunteer need has ballooned since 1947 due to the ever-expanding event. There are fair rides, chicken and lobster barbeques, vendors, road races – a one miler for the kids on Sunday after a 5k on Saturday – and two parades.
"A crafts fair wrapped around amusements and food," Martin calls it.
And, of course, you can't forget about the star of the event. Sunday's grand parade – not to be confused with Saturday's children's parade – is filled with around 11 or 12 leaf-themed floats competing for prizes.
"One of the emphases is the use of foliage. In other words, leaves in limbs and trees," he said. "And it's just about the typical peak of foliage right in Warner that weekend."
Putting on what is the biggest foliage event in the Concord area has a tremendous impact on community development in the region. Through donations alone, the festival raises anywhere from $15,000 to $25,000 in a given year. The best part for Martin? It all stays in the town of almost 3,000.
"It's like a mini United Way," Martin playfully remarked.
He also praised how the influx of business helps many local restaurants and craftspeople build up cash flow for idle winter months.
"It's great helping all the various community organizations from the food pantry, to youth sports to the school," he said. "A couple of years ago we got a pottery kiln for the school, so it's well worth the effort. Nothing leaves town."
Even when COVID-19 broke out in spring 2020, the city-wide connectedness could not be dampened.
"Two years ago we had what we call the virtual one," Martin recalled. "We still had a road race, just digitally timed, fundraisers, raffle tickets, sponsorships, donations. Things like that, which raised $10,000 for the food pantry."
The success of a remote celebration had the team poised to make a strong comeback in fall 2021, but the Delta variant upended those plans. With mere months before it was set to kick off, a once optimistic group canceled the event altogether for the first time in its 75-year history.
But this year, the show will go on.
"Well, it's typically the same thing that doesn't change a lot, though we do have music now. We have the Main Street Bookends' outdoor amphitheater that we bring in a lot of musical acts starting Friday night and then all day Saturday and Sunday," Martin said. "We really had been gearing up the music part of it before COVID, so we're getting back in the swing of things. This [year] is kind of like a touchy-feely type thing, but after we'll get going again with the music."
The layout of downtown Warner makes it the perfect setting to expand the event in this direction. One side of Main Street will have music while the other holds a craft fair for local vendors. And don't worry if your stomach starts to grumble – the Warner Fall Foliage Festival will provide plenty of options.
"Back in the school grounds we have the rides, as well as lobster and chicken barbecue and other food vendors," he said.
Orchestrating this against a Monet-like backdrop hasn't always panned out with an erratic New Hampshire climate, though. But it is those experiences that remind Martin why he is a part of the festival in the first place.
"When it snowed was pretty interesting. Another time we had all the tents set up and on Friday night a big storm came through and blew them all down. So we had to put them all back up," he said cheerily. "Everybody pitched in with that. We were digging ditches to get the water out of there, and it really brought everybody back together. All just to make sure we could have it."
For questions about volunteering, vending or other information, visit WFFF.org.