Thanks to the White Mountains, New Hampshire is famous as a place to take long walks going almost straight uphill. But increasingly it is also a great place to take long walks on the straight and narrow.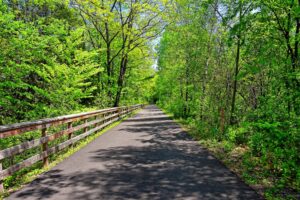 "A lot of people have trouble doing the 4,000-footers, all those rocks and roots, but rail trails are for everybody," said Marianne Borowski, vice president of the New Hampshire Rail Trails Conservancy. "That's one of the things I most like about them: They are totally accessible. It doesn't matter your age, your ability, what you think politically or anything else! Everybody can go onto rail trails."
It has long been popular to turn unused rail lines into places for people to walk, bicycle, cross-country ski, horseback ride, go dog-sledding, or take their snowmobile or ATV. New Hampshire had a statewide rail trail plan as far back as 2005, and the non-profit New Hampshire Rail Trail Coalition was formed by rail fan Charles Martin in 2008 to help everybody coordinate their efforts. Then COVID came along, supercharging public interest.
"Interest in rail trails has been growing exponentially. The pandemic was a lot of it because people wanted to get out," Borowski said.
Unused railroad lines are perfect for taking an outdoor stroll because they're relatively flat – trains can't handle too steep a pitch – and often connect communities, reflecting a history of carrying passengers. Furthermore, since transportation planners in decades past didn't worry too much about environmental effects, the rail corridors often go places that people want to see.
"They used to put lines where it was the easiest way to go from point A to point B. Typically they were alongside wetlands, rivers and streams, because that was level," said Borowski. "It doesn't work like that anymore!"
New Hampshire is now criss-crossed by rail trails, a legacy of pre-automotive transportation. The state once had roughly 1,200 miles of operating railroads carrying people and goods in all directions, but fewer than 370 miles are still active. Most of the rest are owned by the state Department of Transportation, which took over each corridor when the private railroad stopped using it. As of 2022, according to the New Hampshire Rail Trails Plan, the DOT owns 27 different rail trails covering 338 miles, ranging in length from the Northern Rail Trail that goes more than 50 miles between Lebanon and Concord to the 1 ½-mile Profile Rail Trail (as in Old Man of the Mountain profile) in Bethlehem. There are also many miles of rail trails owned by municipalities or private entities.
The overarching goal of rail-trail fans these days is connectivity – joining existing trails or connecting them to non-rail hiking paths so that people can walk as far as their legs will take them.
Turning an unused rail line into a viable rail trail takes time and money. There are some state and federal funds available to help but usually it's a function of local fundraising and volunteer time. As a result, rail trails vary widely in condition.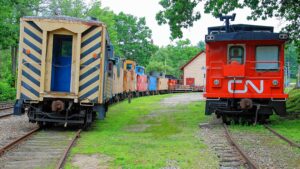 Some still have the rails and ties in place, which makes them hard to walk on but good for winter travel once there's enough snow on the ground. Others may have had the tracks removed but little else done. "There can be ballast rock, sand, kind of a rough surface. There are places that are not that smooth – just like our roads!" joked Borowski.
But many rail trails have been improved, with work done to improve drainage and maintain bridges and the surface smoothed out. Some are even paved and can be ADA-compliant. There's even one – the WOW (WinnipesaukeOpecheeWinnisquam) Trail in Laconia – that has a trail alongside an active rail line, a system known as "rail with trail."
Several rail trails reach the city of Concord. The Concord-Lake Sunapee Rail Trail being developed along the old Concord-Claremont Railroad line starts on Fisherville Road, the Merrimack River Greenway Trail is slowly taking shape along the river and will eventually connect to the Northern Rail Trail with the goal of creating a continuous path from the Connecticut River in the Upper Valley down to the Massachusetts border.
Further afield, at least a half-dozen rail trails can be reached within a half-hour drive of the city, from the charming little Head's Pond Trail in Hooksett to the Henniker & Hopkinton Rail Trails to the long Winnipesaukee River Trail between Franklin and Laconia.
There is no single source to find all rail trails but several online sites can help. Here are places to start:
New Hampshire Rail Trail Coalition site, which includes a guide written by Charles Martin, who basically launched rail trails in New Hampshire, at nhrtc.org
New Hampshire and Vermont Cooperative Extension have an interactive list of various trails, including rail trails, at trailfinder.info
TrailLink from the national Rails-to-Trails Conservancy, has good information at traillink.com – you can use it to find rail trails all over the country.
Once you find and begin exploring the trails, why not make it into a quest? With over 40 completed New Hampshire rail trails, accept the challenge to find them all, and earn a custom embroidered patch from the New Hampshire Rail Trail Coalition to celebrate the achievement. The New Hampshire Rail Trails Challenge is free to the public, and is an activity designed to encourage exploration of all the beautiful trails, and to discover hidden treasures you might not otherwise encounter. For more information on completing the challenge, and for a glimpse at the achievement patch, visit online at: nhrtc.org/new-hampshire-rail-trail-challenge.