Reagan Bissonnette is the executive director of the Northeast Resource Recovery Association (NRRA), a nonprofit organization that helps communities in New England manage their own recycling programs, including 85% of towns and cities in New Hampshire.  (You'll notice her passion for recycling and waste reduction is a common theme among her local favorite spots.) Reagan lives in Concord with her husband and elementary-age son, and is the president of the Concord Public Library Foundation. Here's a look at some of her family's favorite Saturday morning activities.
Bona Fide
This package-free home goods store supports my family's waste reduction efforts.  I purchased my trusty Klean Kanteen insulated water bottle here (which I take everywhere, including the gym), as well as reusable bamboo utensils and reusable mesh produce bags.  We buy bulk items like toothpaste tabs, shampoo bars and soap.
Downtown Farmers Market
Not only is the farmers market a great way to buy fresh food and
support local farmers, but it's also a good source of package-free food.  We fill our reusable produce bags with fruit, veggies, and baked goods and say hello to friends and neighbors.
Concord Public Library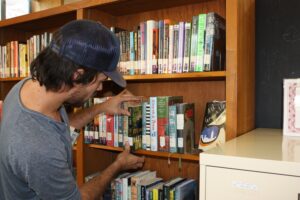 We always enjoy a stop by the library to pick up books, as we prefer to borrow rather than own many books at home. The library also offers free educational events, discounted museum passes, and digital resources like audiobooks and e-books. It also has a telescope my son loves to borrow.
Teatotaller and the Works Bakery
For brunch, we are fans of The Works Café, which sources food from local farmers and sends their food scraps and packaging to an anerobic digester rather than a landfill. We're also enjoying Teatotaller, a self-described "queer hipster oasis" that's a new addition to Main Street. Plus, both cafes are happy to put our drinks in our reusable mugs!
White Mountain CrossFit
My husband and I have been members of White Mountain CrossFit for years and love the community there. During the week, I go to classes at 5 a.m. with other extra-early risers, but on Saturdays, we'll go as a family, and my son can play with other kids there.