SOMETIMES THE BEST MEAL IS THE SIMPLEST TO PREPARE
The increasing popularity of charcuterie boards comes as no surprise to anyone who grew up in a home where meals consisting of smoked and cured meats with cheese were de rigueur. My father, who hails from Lithuania, often served family meals with such delicacies. One of my favorite food memories from my childhood is our family's typical Sunday lunch. My father would go to our local delicatessen and bring home thinly sliced Westphalian ham*, smoked sausages, whole smoked whitefish, Havarti or Jarlsberg cheese, and a couple loaves of rustic bread.
He'd open up all the paper-wrapped packages and informally place them in the center of our kitchen table alongside a bunch of grapes, sliced Granny Smith apples, a jar of cornichon pickles—tart French pickles pickled with tarragon—and Pommery whole-grain mustard. Our family would eagerly sit down to enjoy our lunch, cutting small slices of bread, spreading grainy mustard, and making little open-faced sandwiches with a combination of meats and cheese or smoked fish. My parents would pour themselves glasses of German pilsner beer or Gewürztraminer wine—a usually sweet white wine originally from the Alsace region of France—to go with the food.
The meal was exceedingly casual, filling, and required no cooking or labor. It was a perfect time for our family to eat and enjoy some time together on a lazy Sunday afternoon. I greatly enjoyed those meals, but back then I had no idea that most Americans didn't eat like my family, or that this style of eating would eventually become a fashionable food trend.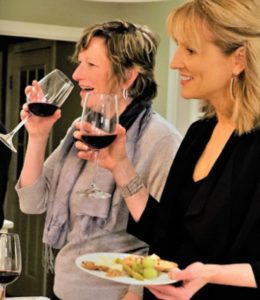 Charcuterie might appear to be a newly crafted food fad by chefs in the trend-obsessed culinary world, but it's actually been around for a long time. Europeans have been eating it for centuries. Charcuterie is a culinary custom that dates back to 15th century France and arose out of the necessity to preserve meat principally via methods such as salting and smoking. Originally, charcuterie referred only to products made from pork, though now it is used to describe any poultry, fish, seafood, or meat that is preserved.
In recent years, charcuterie has garnered a large following in the United States. From simple to fancy, we are now seeing scores of restaurants offering charcuterie boards that have familiar products like prosciutto di Parma to the more exotic meats like wild boar salami or Ibérico ham.
Though charcuterie boards could be considered sophisticated restaurant fare, one must keep in mind that humble hot dogs and all-time favorite bacon are examples of preserved meats that are commonly eaten on a daily basis in many American households. Essentially, we've been eating charcuterie without even knowing it.
With the advent of modern refrigeration and ample food availability, we no longer need to preserve food for long-term storage. We now eat preserved foods simply because they taste good. Products like salami, ham, sausage, terrines, galantines, ballotines, pâtés, and duck confit are widely available and are either imported from Europe, or are being produced by small, artisanal companies around the United States who take charcuterie making very seriously.
The easy availability of excellent quality meats and cheeses allow anyone, with minimal effort, to put together an elegant charcuterie board at home. The best part of making your own is you can use your favorite products and accompaniments. Even better, it's an excellent appetizer for a party as it requires no cooking and only a small amount of preparation. 
*Westphalian Ham is made from the hind legs of pigs allowed to graze on acorns in the Westphalia (Westfalen) forest in Prussia, Germany. The meat is dry-cured and then smoked over a mixture of beechwood and juniper branches. The resulting meat is rindless and pink, with a delicate, smoked flavor.
SOME PRODUCT SUGGESTIONS TO USE AS A GUIDELINE
Meats: Calabrese salami, dry-cured coppa, prosciutto di Parma, roasted porchetta, prosciutto arrosto

Cheeses: aged cheddar, Italian fontina, Boucheron goat cheese, Gruyère, Parmigiano Reggiano, St. Stephen triple-cream Brie

Crackers, grilled slices of French bread

Sour cherry or fig jam

Mixed olives

Marcona almonds

Cornichons

Pickled asparagus

Grainy mustard

Red or green grapes
MAKING A CHARCUTERIE AND CHEESE BOARD 101:
When assembling your charcuterie and cheese board it's important to keep in mind the interplay of sweet and savory, crunchy and creamy. A variety of flavors and textures will ensure that your board has something interesting for everyone.
In general, allot two ounces of meats and cheeses per person.
Bring all cheeses to room temperature before serving.
Plate everything decoratively on a large serving platter, wooden board, or piece of slate with small bowls to hold pickles, nuts, olives, and condiments.
Have plenty of knives available for cutting the different cheeses.
Serve the charcuterie and cheese board with your favorite wines or beer and enjoy.
 www.aroundconcord.com
WINE PAIRING SUGGESTIONS
Dry prosecco, Cava, champagne, or sparkling white

Gewürztraminer or Riesling – slightly sweeter white wines

Albariño – crisp Spanish white wine

Pinot noir – medium-bodied red French or New World wine

Barbaresco – heavy-bodied red Italian wine

Barbera d'Alba – medium-bodied red Italian wine
WHERE TO SHOP CHARCUTERIE & MORE
Local Baskit Marketplace
Specialty cheeses, wines, craft beers, pre-prepared meal kits, and a growing list of locally sourced food products.
 shop.localbaskit.com
Celeste Oliva
Artisan olive oils and balsamic vinegars, Stone & Grove Olive Leaf Tea, and extraordinary sea salts.
 celesteoliva.com
Wellington's Market
High-end wines and cheeses, specialty crackers, anchovies, quince paste, preserved lemons, and prosciutto.
 wellingtonsmarketplace.com
Wine'ing Butcher (Pembroke)
Find something a little different for a protein such as quail, rabbit, venison, wild boar, and game hen.
 wineingbutcher.com/pembroke
Bread & Chocolate
Fine breads and pastries with an Austrian lilt.
 29 south main street, concord,
or (603) 228-3330
Crust & Crumb Baking Company
Pastries and a wide range of breads such as baguettes, sourdough boules, Shaker squash rolls, olive bread, and sauerkraut rye.
 thecrustandcrumb.com
Concord Food Co-op
If you haven't found it at the wonderful shops above, more than likely the Co-op has you covered.
 concordfoodcoop.coop