Continued from the Fall 2014 Issue of Around Concord Magazine…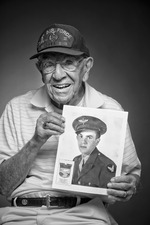 Paul's Training & Missions
Training Class – 4 (12-12-42)
Training Class – 4 Terminated (3-15-43)
Assigned to Ariel Gunnery Combat School, Chanute Field, IL (2-20-43)
Graduated and assigned to the Heavy Bomb Group United States Airforce (6-20-43)
Ramsbury England (6-26-43)
Participated in 18 Heavy Bomb Missions and 37 Low Altitude Bomb Missions before the war ended in Europe in April/May 1945 when he was redeployed to Marfa, TX for re-training on the B-29 Bomber.
Training was completed 1 week prior to the dropping of the Atomic Bombs on Japan thus ending the war in the Pacific in August 1945 when his order to fly to the Pacific were cancelled.
Discharged on September 25, 1945
Gliders in World War IIbrbr
The book Forgotten Wings by French author Philippe Esvelin outlines thebrAllies' use of gliders during the war. Paul Proulx, who was interviewed for ourbrarticle, was also interviewed for the book and has met the author.
brbr
Besides giving detailed accounts ofbrthe American glider manufacturing and training programs, the book covers thebrsix glider missions of the Normandy invasion. As one Amazon reviewer writes,br"The assorted photos are not just of gliders, but all aspects of what was takingbrplace during the invasion. Included are photos of artifacts saved by thebrveterans, 'then' and 'now' photos of buildings and landing fields, and invasionbrdocuments."
brbr
An intriguing aspect of the bookbrfeatures stories about downed or lost pilots in France during the war. Manybrdetails are given, including dates, French citizens' names, towns and villages,brand how many days the pilots were fed and hidden by these people, evenbrdescribing what they ate and drank, and conversations they had. Under cover ofbrdarkness, the pilots were escorted from village to village in secret, finallybrmaking their way to the French coast. British submarines, which had beenbrradioed, met them to pick them up and return them to England.
brbrBook author PhilippebrEsvelin's father was an important figure in the French Underground, andbrPhilippe interviewed many French citizens and veterans for this fascinatingbrbook, which is available at Amazon.com.
KTBS.com – Shreveport, LA News, Weather and Sports