By L. R Berger
Filling the teapot at the tap,
turning on the burner—
praise be for the day's first acts
requiring no imagination,
no choices of consequence.
You can be half asleep
and already a success at life,
draw encouragement
mastering the rituals of morning—
parting the curtains,
reuniting with your eyeglasses.
The looming hurdles of the day
begin to loom possible,
the heavy head of the earth
will not today spin off
on its orbit without you.
The water boils and you know
what to do, your cold feet
anchored again
to the map of the world.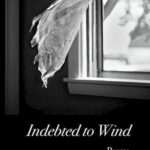 L.R. Berger is a Contoocook poet. Her latest collection is Indebted to Wind (Deerbrook Editions), which is available at local bookstores and online. Her work has been supported by the National Endowment for the Arts, the PEN New England Discovery Award and the New Hampshire State Council on the Arts. She was a Visiting Artist at the American Academy in Rome, and has been granted residencies at The MacDowell Colony, The Blue Mountain Center, Hedgebrook, Wellspring House and The Hermitage. Her collection of poems, The Unexpected Aviary, received the Jane Kenyon Award for Outstanding Book of Poetry.