Fundraising efforts are inching closer to turning Concord into a destination for cross country skiing
A winter wonderland for cross country skiing at city-owned Beaver Meadow Golf Course is close to reaching its first phase this season, but isn't quite there.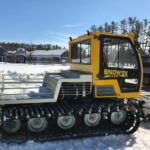 The first step to bring top notch Nordic skiing to the city was to purchase a small snow groomer – a machine that could move snow around trails and break up icy spots. The fundraising goal was set at $150,000 to cover the cost of a new groomer.
The fundraising campaign to get the groomer on the snow this winter, including buying $25 "Ski the Beav" stickers, has reached about $80,000. That's a healthy amount of money, but it's $20,000 short of the total to trigger a $50,000 matching grant from the city of Concord.
"Someone could put us over the finish line tomorrow," said Concord High School Nordic skiing coach Sam Evans-Brown. "If someone really wants to make this possible, they should email us."
Without the new machine, grooming will be done again with the use of a snowmobile, which is less than ideal since it often gets stuck and doesn't do the best job.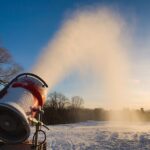 As the plan progresses, phases two and three include snow-making equipment and lights for night skiing.
The project got its start a few years ago when the City's Parks and Recreation department wanted to explore making Beaver Meadow a year-round destination for community recreation. This push led to an outdoor skating pond and indoor golf simulators, and an uptick in community use of the course for cross country skiing. After local ski teams started to use the trails more, attention quickly turned to improving the conditions.
Joe Ayotte, who coaches with the Concord Nordic Bill Koch Youth Ski League, moved the league's regular meeting area to Beaver Meadow. The switch was a hit because parents could hang out in the clubhouse while their kids learned their skills on rolling terrain.
Concord High's Nordic ski team started practicing at Beaver Meadow for similar reasons. Other trails, such as Memorial Field, were "pancake flat," Evans-Brown said.
"Race courses have hills," Evans-Brown said.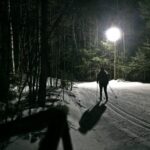 Additionally, Evans-Brown is continually looking for locations with good conditions that don't require his skiers to travel far distances to practice.
Evans-Brown has his eyes on a used groomer located in New Hampshire that could be available at a lesser price, which could quickly spur the evolution of skiing at Beaver Meadow. Additional phases could be funded through grants and community development funds.
Once winter hits, the golf course offers a solid five kilometers of skiing, which is the perfect distance for Nordic races. In time, there is an opportunity to extend the trail network into nearby places like the Sewalls Falls recreation area to create something larger and special for the Concord community, Evans-Brown said.
"There's really a lot of potential to string together a whole trail network," Evans-Brown said. "But that's a longer conversation."
Donations can be made at sites.google.com/view/skithebeav, or by writing a check to the city of Concord with "Groomer" written in the memo line.
"Ski the Beav" stickers are currently available at Concord Parks and Recreation, Beaver Meadow Golf Course, and S&W Sports.