WHY SMALL HOUSES ON WHEELS ARE MOVING SLOW IN THE GRANITE STATE
They are a secretive group. One woman lives in her daughter's backyard, hiding in a kind of freestanding in-law apartment. A senior-citizen couple fled our cities for the woods outside Plymouth. They believe they're safe from authorities for now, but they won't say exactly where they are. And a young couple that started life on the Seacoast—and may have been in Warner for a few months—are now simply up north. Like the others, they will not name the town they're in.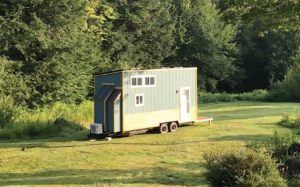 Their lives are simpler, quieter, smaller than their neighbors'. But they're not illegal aliens, off-the-grid survivalists, or members of a strange cult. They're New Hampshire residents who live in tiny houses.
It's a peculiarity of our day. In the Live Free or Die state, where traditional and libertarian values combine to make a culture of healthy tolerance, tiny homes—those cute, creative miniature housing units that are the stars of numerous cable television series, podcasts, and best-selling books—are basically illegal. And we're not alone.
All over the country, living year-round in a mobile tiny house (a.k.a. tiny house on wheels, or THOW) is largely unpermitted, disallowed by outdated zoning regulations and the fears of potential neighbors. One exception, tiny houses on foundations (THOF) are allowed if they comply with local zoning regulations, such as minimum size.
Joe Mendola of Warner knows the problem. Last year Joe, who works in commercial real estate, asked his hometown planners if he could develop a small colony of tiny houses. They turned him down. At a roundtable event held at the New Hampshire Institute of Politics in February, Ben Frost, the chairman of the Warner planning board, explained why his board rejected Joe's plea. "There is no building code for tiny houses on wheels," he said.
Now, the two Warner men are together on legislation that would make living in a THOW on a year-round basis allowable in New Hampshire. "If we do this, we'd be the first state in the nation where tiny houses are permitted," Joe says. "It would be national news."
"When I wrote the following pages, or rather the bulk of them, I lived alone, in the woods, a mile from any neighbor, in a house which I had built myself . . . I wished to live deliberately, to front only the essential facts of life, and see if I could not learn what it had to teach . . . I wanted to live deep and suck out all the marrow of life . . ."
—From Walden by Henry David Thoreau, 1854
BACK TO THE GARDEN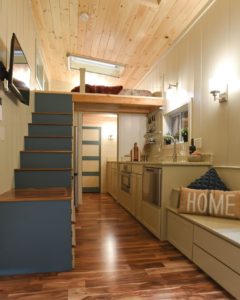 The tiny house movement started in the late 1990s, inspired partly by the bucolic musings of Thoreau, the popular 19th century New England essayist, poet, and philosopher, and partly by the increasing size and costs of American domiciles. There is no formal definition, but tiny houses are generally described to be 500 square feet or less—although THOWs typically measure about half that—with a height of approximately 12 feet. Their dimensions are within the requirements for traveling down a public road.
Beyond measurements however, the tiny house movement promotes prudence, ecological responsibility, and a more thoughtful approach to daily life, say its fans. And while there are no age limits, most owners are younger people who enjoy making their own living space, traveling, and using their money on nonhousing-related expenses (i.e., a mortgage or heating bill).
In addition, most tiny house residents love the outdoors—hiking, kayaking, and so on—and eschew sedentary pursuits like Netflix and chill. "They think of the outdoors as their living room space," says Isa Bauer of Tiny House Northeast of Wakefield, New Hampshire, the only construction company in the state that focuses on the diminutive domiciles.
Some people think of tiny houses—especially THOWs, which are constructed on trailer frames—as simply smarter looking manufactured homes. But tiny houses are not campers or manufactured homes, Isa says. They're built with traditional building materials and designs and can last as long as any other house. At the same time, they naturally produce innovative and multifunctional space-saving concepts, as well as a greater consideration of vertical living space.
MEET YOUR TINY NEIGHBORS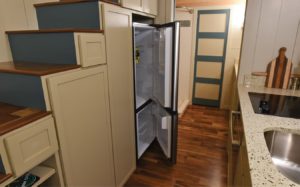 Kyle Carey and Carmine Colajezzi are building a tiny house in the Lakes Region. In many ways, they're the typical tiny house fans. They're creative millennials (she's a musician, he's a carpenter) who want to live a modest lifestyle. They love the outdoors and have designed their new home with a rustic look. They're also hoping to save some money by living in the 220-square-foot home for the next five-to-seven years. They then want to purchase a standard residence. "At that point, we can either sell it or rent it out," Kyle says of the new place. "But even now, it economically makes sense for us. I'm still paying off a student loan. That and the fact that Carmine and I want to pursue our artistic passions are what have promoted us to go tiny."
The couple has done a ton of research, Kyle explains, looking at everything from condensation issues—many tiny home residents say it's an ongoing issue—to creating adequate insulation both around the structure and below for the foundation or trailer. "And if you want to be off the grid, like we do, there's a whole other can of worms you have to get into. There's gray water, black water, composting toilets, the solar panel system, water tanks . . ."
Still, their biggest concern is where they'll put the place once it's completed at the end of the summer. They're considering a nearby town that never adopted a local zoning code. There are about a dozen of them in New Hampshire, most located in Grafton County. But the couple is nervous, especially after learning that state zoning regulations could still create problems for their handmade place. "We're making a $60,000 investment on something that's still, legally, in a little bit of a gray area," Kyle confesses.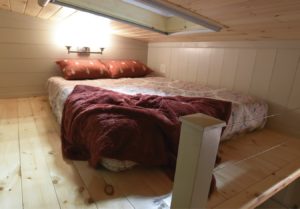 Retirees Mike and Judy Burnett say they're reasonably secure in their tiny home, mostly because it sits on five acres that they own. "We now live on a quiet dead-end road in Grafton County with the mountains all around us," Judy says. They met on Mount Monadnock 15 years ago and were married at the same spot six years later. A few years ago, they were approaching retirement age and growing tired of living in a rented Manchester apartment while craving the outdoors.
When they began contemplating buying their first home together, living tiny looked like a good option. They considered buying a finished product from a company like Tiny House Northeast but finally decided to follow the lead of other tiny-house enthusiasts and build their own. The 225-square-foot finished product, which cost them about $3,000, has dormers and gables. "It's not traditional, but that's what I like about it," Judy says.
Moving into the much smaller space called for some personal reflection. "We had to adjust to our idea of wants versus needs," Judy explains. "I don't think we keep a lot of knickknacks. We keep things that are meaningful. Mike says that everything we have has to have at least three purposes."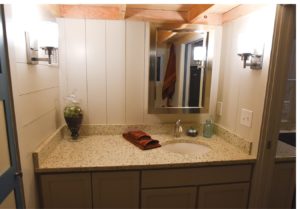 Along the way, the Burnetts dealt with problems they probably wouldn't have had in a standard home. Early on the hose that served as their main water supply kept freezing. Mike still has to wipe condensation off virtually everything in the place each morning. "And it gets dirty easy," Judy says. "We're always vacuuming and sweeping. I think it's because it's such a small space and we're surrounded by grass and dirt, so we're always bringing it in on our clothes and shoes. But it takes no time, maybe five minutes.
"The hardest thing is when we both come home at the same time," she adds. "You have to say what you're doing: 'I'm going over there' or 'I'm going to the bathroom.' We can walk by each other, but we have to do it sideways."
Although their town has no zoning, the couple keeps a low profile. Their few neighbors are considerate, and a few town officials have stopped by without voicing any concerns. But without specific rules regulating tiny houses, their place could be considered a recreational vehicle, Judy says. "And you're not supposed to live in an RV 12 months a year."
When they first got to town, she thought about calling the town hall with specific questions about their situation, but a real estate agent advised against it. "A lot of the problems that tiny house people have are complaint-driven, by other people," she explains.
TINY, TO GO
If economics was the chief appeal for Kyle and Carmine and the great outdoors attracted Mike and Judy, creative issues drew Chloe Barcelou and Brandon Batchelder. The young couple owns B&C Productions, a set, costume, and prop design and construction business that services movie companies, photographers, and other media organizations. Chloe is also the fashion editor at New Hampshire Magazine and a model while Brandon works as a carpenter and writer. "We're freelance artists so we're always going job to job," Chloe explains. "But we're just starting our careers so there wasn't enough time and money. A tiny house freed up a lot of time and cut our expenses."
The couple roughed out a 300-square-foot design in 2015 and began building on an 18-foot trailer in a friend's yard on the Seacoast. But they took a unique approach. "We're very esthetic people as artists so we thought, why don't we make it a portfolio item?" Chloe recalls. They were inspired by gypsy wagons, old railroad cars, and clipper ships. They began collecting overstuffed comfy chairs, antique desks, vintage throw rugs, and other eclectic items. "The recycled materials came off film sets that we were hired to design and build," Chloe explains. "After the movie would film, we'd tear things down and, instead of throwing the materials in the dumpster, we used them as the building blocks for our tiny house."
They created a cheerfully cramped environment that combines the modern conveniences (like a microwave and computers) with a funky American style (including a Crock-Pot lid serving as a shower door window). Then they added the kind of side pop-outs usually found on a camper. Now when they set up at a location production site, the tiny house expands to 300 square feet with separate work areas and windows for Chloe and Carmine.
"Building our tiny house was far from easy but the freedom of creativity, the authority to include any idea, no matter how whimsical, and the knowledge that we would one day find ourselves sheltered by our own creation was an experience we can only compare to the building of tree forts in childhood," Brandon wrote on their tiny house blog. "It felt natural, freeing, even primitive."
The distinctive design cost about $20,000, and it soon caught the attention of friends and colleagues. As a result, their tiny house was featured in several regional magazines, on blogs, and on television design programs, including HGTV's popular Tiny House, Big Living.
"To have a home, a place that's comfortable and mortgage-free," Chloe says, "our quality of life went way, way up. And that's great when you're only making $5,000 a month. There's so much more money to do things like buy health insurance, go out with friends, buy clothes, or to have a pet." (The couple's cat, Mr. Nose, enjoys free range of their place. He even has his own space.)
Anne Mellin and Sue Schoenfeld of Henniker have chosen a different approach. The self-described "chronic home-improvement junkies" don't live in a tiny house, but they're drawn to the creative design and construction challenges it presents. Working with local builder Seth Murdough, they formed Tiny Living Spaces in 2016 with the goal of making custom-made tiny houses for individual clients.
The women wanted to make units that would last longer than many homemade tiny houses with the look and feel of a traditional home. "A tiny house you can actually live in," is the company's motto. "People come into our houses and say, 'this feels like a home,'" Anne says. "It's all top-end stuff," says Sue. "Granite countertops, nice tile floor in the bathroom, wood floors. And special touches, like a TV that pulls up to reveal a nice window." Anne adds, "Ours have metal roofs that are done by a roofer who only does metal roofs."
The company's tiny houses have gained attention from various media organizations, including the H&G cable television network.
However, the state's lack of zoning for tiny houses has crimped their work.
"There's no place to put them," Sue says. "You wind up going to the town hall, trying to explain it, but people don't want them in their backyards.
"It's ironic," she adds. "You can be homeless and live in your car, but you can't live in one of these." 
CAN TINY HOUSES MAKE IT IN NEW HAMPSHIRE?
To Joe Mendola, the issue of allowing tiny houses on wheels in New Hampshire is personal. Joe, who lives in Warner, has been in the real estate business for more than 40 years and now works as senior vice president and advisor with the NAI Norwood Group. Like other business people, he's concerned about young people leaving the state to start their professional lives elsewhere. There are also the many young out-of-staters who are attracted to the state's lifestyle but can't find the economic opportunities and affordable housing here that is available in other states.
Without these talented young employees, businesses won't locate here and those that have, may leave to find the employees they need to succeed.
This does not bode well for the state's economic future, he says.
One day, Joe's wife urged him to sit down and watch a popular cable television program about tiny houses. He had an epiphany. What Joe saw was a lot of creative, independent young people choosing to go tiny. He saw that these smaller abodes naturally promote a simpler lifestyle, more outdoor and social activities, and a modest carbon footprint that many millennials favor.
They're relatively inexpensive to live in, which allows people to save money for more a permanent home. And because tiny houses on wheels (THOWs) are mobile, they're especially attractive to young professionals who may change jobs 10 or more times during their careers.
At first, Joe tried to develop a small tiny house park in Warner, but his planning board turned him down. Then he asked the members to reconsider his proposal under the federal government's Department of Housing and Urban Development (HUD) regulations governing manufactured home parks.
But Ben Frost, the board's chairman, rejected the idea. The problem, Ben told Joe, is that there are no zoning regulations specifically designed for living in a tiny house on wheels. And when Joe dug deeper into the research, he realized that there is no state in America that has yet worked out the problem. Around the country, there are thousands—perhaps a million or more—mostly young people who are living out of sight (and sometimes off the grid) due to the unresolved zoning barrier.
So, Joe got together with Ben, whose day job is serving as director of legal and public affairs for the state's Housing Finance Authority. (Ben did this on his own time. The authority has not taken any stance on tiny houses). The pair came up with a bill that would allow THOWs in small parks throughout the state.
State Representative Dave Testerman of Franklin sponsored the idea in HB 312, which, according to Joe, would allow New Hampshire towns to permit THOWs. If passed, the state would become the first state in the nation to allow THOWs. "That would make national news," Joe says.
But there were still some unresolved questions. If a tiny house is abandoned, who is responsible for it, the owner or the property owner? What about tiny house fans who want to build their own THOWs? How about building a single THOW on a private lot? Are there relevant environmental issues?
In March, Representative Testerman altered his bill just before it was presented at a public hearing to the House Committee on Municipal and County Government. Instead of a law that would require towns to accept THOWs under certain specific conditions, the amended law would create a study committee to examine the full range of issues related to tiny houses.
The legislature approved the idea in the spring and the governor is expected to sign it.
The committee is expected to complete its work by November 1 and report back to the legislature in time to create new THOW legislation for the 2020 legislative session.
TINY HOUSE CONNECTIONS
Kyle Carey and Carmine Colajezzi are building a tiny house in the Lakes Region. You can follow their progress at www.kyleannecarey.com or, reach out to Kyle at kyle@kyleannecarey.com.
www.kyleannecarey.com
Chloe Barcelou and Brandon Batchelder own a distinctive tiny house that's been featured in a variety of television programs, magazines, and more. Learn more about it at their company website www.productionartanddesign.com, or follow Chloe on Instagram @ChloeBarcelou.
www.productionartanddesign.com
Tiny Living Spaces of Henniker can be reached at tinylivingspaces.com. A video feature about Lil' Blue, one of their tiny houses, can be seen here: www.youtube.com/watch?v=oUFlSsMQjgM.
 tinylivingspaces.com
The only construction company in the state completely focused on tiny houses is Tiny House Northeast in Wakefield, tinyhousenortheast.com.
tinyhousenortheast.com
Joe Mendola, a Warner resident and commercial real estate broker, is trying to make tiny houses on wheels (THOWs) permitted in New Hampshire. Follow his progress on his Facebook page entitled Warner Tiny Homes.
www.facebook.com/warnertinyhomes
You can try out living in a tiny house while on vacation. Tuxbury Tiny House Village in South Hampton has six different units available. Visit tuxburytinyhouse.com.
 tuxburytinyhouse.com
American Tiny House Association posts information about tiny-house issues around the county at americantinyhouseassociation.org/category/state/new-hampshire.
americantinyhouseassociation.org/category/state/new-hampshire
Many other websites, blogs, podcasts, and cable television programs also deal with tiny house issues, including tinyhousetalk.com.
 tinyhousetalk.com
Concord's Matt Bonner, who played in the NBA for years, is a big fan of tiny houses. His project was featured on the Tiny House Nation cable television series.
www.youtube.com/watch?v=2urcci4cile
Millennials are not the only ones attracted to tiny houses. So are single women and senior citizens. Watch this feature about seniors: mymodernmet.com/tiny-homes-senior-living.
mymodernmet.com/tiny-homes-senior-living