How Italian trattoria-style cooking found its way to my New Hampshire kitchen
I'm so crazy about Italy and its cuisine that I'm willing to go out on a limb and boldly state that there is no such thing as bad food in Italy. Yes, Italian art and architecture are exquisite, but Italian food cast a spell on me from my first bite of cicchetti.
My family and I had the good fortune to have visited many parts of Italy because we lived close by in the French Riviera. On more than one occasion while driving from France over the border into Italy, we stopped in tiny, I-can't-remember-the-name villages to eat lunch where we were always treated to extraordinary, yet simply prepared meals that exemplified Italy's culinary genius.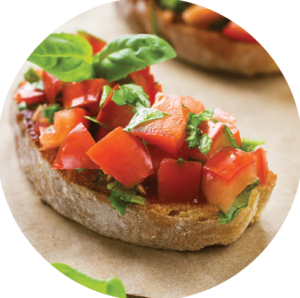 Of all the fabulous meals I've had in Italy, it was years ago on my very first trip there with my husband that we had a dining experience that will be forever etched in our memories. The concierge at our hotel in Venice gave us detailed directions in her lilting Italian accent on how to get to Taverna al Remer, a casual but reputable trattoria.
Carefully following the directions, we walked for what felt like miles through the labyrinth of narrow, seemingly endless streets that populate the city of Venice. After quite a few missed turns, we finally found ourselves at the restaurant only to discover that it was not yet open. It was only 5:30pm and while our jet-lagged stomachs were screaming for food, we were forced to wait until the establishment opened around 6pm.
Fortunately, it wasn't too long before we were welcomed inside to sit at the bar and enjoy an aperitivo—a predinner cocktail—with some complimentary cicchetti, bite-sized appetizers commonly served in Venetian bars during happy hour. We noticed that as local patrons trickled into the restaurant after a day's work, they were all drinking festive-looking orange cocktails replete with straws and thick orange slices. Our server informed us that these drinks were the classic Venetian cocktail Aperol Spritz.
After trying a couple, my husband and I were devotees. Effervescent prosecco combined with a pleasantly bitter-orange flavor from the Aperol liqueur made the icy drink refreshing on a hot summer's night. Our cocktails also paired beautifully with the variety of cicchetti proffered by the restaurant bar.
At 8pm when it was deemed by Italian standards as the earliest acceptable time to eat dinner, we were seated at our table. Our server told us that the restaurant had lamb chops as a special menu item that evening that were prepared a scotta dita, which literally means burn-your-fingers style. These marinated lamb chops are so named because they're eaten burning hot off of the grill with one's fingers. We also ordered risotto, a northern Italian dish made with arborio rice and cooked with broth until it reaches a creamy consistency.
A Dining Experience to Remember
Our affable server, with whom we had become fast friends during our two-hour wait before dinner, asked if, while our food was being prepared, we would like to see the kitchen. Certamente! He walked us to the back of the romantic, candle-lit restaurant where we peered through a doorway into an antiquated but well-appointed kitchen. A couple of cooks were bustling around the stove, stirring away at an array of pots while a small elderly woman in a dress and apron bent over her wooden cutting board assiduously chopping up a large pile of baby zucchini and carrots.
She looked up from her work, smiled, and gave us a little wave, then went back to her labors. Our server, who as it turned out was also the proprietor of the trattoria whispered, "That's my nonna, my grandmother."
When our meal was served at last, we were delighted by the buttery tenderness of the seared lamb chops, which we obediently ate with our fingers, as was customary. While the lamb chops were delicious, the true star of the meal was the risotto primavera, which was served steaming hot in a large stoneware bowl, family style. It tasted subtly of Parmigiano-Reggiano cheese with a hint of white wine and dotted throughout with coins of sautéed baby zucchini, sweet carrots, and peas. The texture of the risotto was just right. Silky with a bit of a bite to each grain of rice.
As if that wasn't perfect enough, we punctuated our meal with a dessert of velvety smooth panna cotta, an Italian dessert of sweetened cream thickened with gelatin.
Upon returning home from our trip to Italy, I wasted no time in attempting to recreate in my own kitchen all of the memorable food we had enjoyed in Venice.
Fresh and Local with a Taste of Italy
So much of the appeal of Italian cooking is that it emphasizes the use of fresh, local ingredients. In New Hampshire one can easily find beautiful produce at every farmers' market and grocery store from June through September. Try making a risotto primavera by adding a combination of locally grown vegetables such as zucchini, summer squash, red peppers, or fresh corn.
This summer bring Italian trattoria-inspired dining into your home by starting your evening with an Aperol Spritz cocktail and some bruschetta rosa, an appetizer made with garden-ripe tomatoes, basil, and garlic on toasted bread. For dinner, grill some succulent lamb chops a scotta dita served alongside a creamy risotto primavera.
A bottle of Italian red wine like Sangiovese, or a dry Italian white like pinot grigio would pair beautifully with this meal. For dessert, keep it simple by serving bowls of local berries and whipped cream or if you have extra time, make easy and delicious panna cotta.
Most important, remember that food always tastes best when enjoyed with family and good friends. As the Italians say, Mangia bene, ridi spesso, ama molto. Eat well, laugh often, love much. I couldn't agree more. Buon appetito!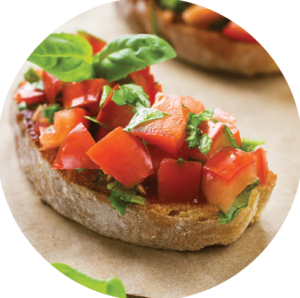 Bruschetta Rosa
Serves 8

12 to 14 fresh, ripe plum tomatoes (about 1O lb)
2 Tbsp minced garlic
2 Tbsp minced shallots
1 cup fresh basil leaves
1 tsp fresh lemon juice
Salt and coarsely ground black pepper, 
to taste
L cup plus N cup extra-virgin olive oil
3 cloves garlic, slivered
8 thick slices round peasant-type bread
1. Cut the tomatoes into N-inch dice and place in a bowl. Toss with the minced garlic and shallots.
2. Coarsely chop the basil and add to the tomatoes, along with the lemon juice, salt, pepper, and L cup olive oil. Set aside.
3. Heat the N cup olive oil in a small skillet. Sauté the garlic until golden, two to three minutes. Discard the garlic and reserve the oil.
4. Cut each bread slice in half and toast or grill them.
5. Brush the garlic-flavored oil over each slice and place on serving dish or platter alongside the bowl with the tomato topping.
6. Allow your guests to spoon the tomato mixture over each slice of bread. The mixture should be served at room temperature.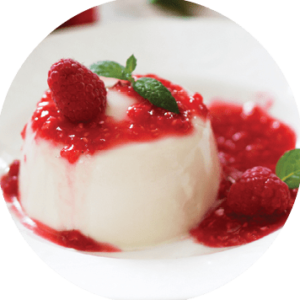 Panna Cotta
Serves 8

1 envelope unflavored gelatin (about 1 Tbsp)
2 Tbsp cold water
2 cups heavy cream
1 cup half-and-half
L cup sugar
1K tsp vanilla extract
2 cups mixed seasonal berries
1. In a very small saucepan, sprinkle gelatin over water and let stand about one minute to soften. Heat gelatin mixture over low heat until gelatin is dissolved. Remove pan from heat.
2. In a large saucepan, bring cream, half-and-half, and sugar just to a boil 
over moderately high heat, stirring.
3. Remove pan from heat and stir in the gelatin mixture and vanilla.
4. Divide the cream mixture among eight K-cup ramekins and cool to room temperature. Chill ramekins, covered, at least four hours or overnight.
5. Dip ramekins, one at a time, into a bowl of hot water for three seconds.
6. Run a thin knife around the edge of each ramekin and invert the ramekin onto the center of a small plate.
7. Place berries around each panna cotta before serving.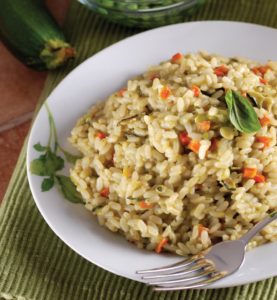 Risotto Primavera
Serves 6–8

2 Tbsp extra-virgin olive oil, divided
1 cup sliced small zucchini (N-inch thick)
1 cup diced carrots
Salt and freshly ground pepper
4K cups (or more) low-sodium chicken or vegetable broth
3 Tbsp unsalted butter, divided
2 shallots, chopped
1O cups arborio rice or Carnaroli rice
O cup dry white wine
1 cup freshly shelled small peas or petite frozen peas
O cup freshly grated Parmigiano-Reggiano cheese, plus additional 
for serving
1. Heat one tablespoon extra-virgin olive oil in pan. Add zucchini and carrots. Sprinkle with salt and pepper. Cook until crisp tender, about three minutes. Set aside.
2. Bring broth to simmer in medium saucepan; keep warm over low heat. Melt one tablespoon butter with one tablespoon oil in heavy medium-sized saucepan over medium-low heat. Add shallots. Sauté until softened, about three minutes.
3. Add rice; stir until the rice is translucent at edges but still opaque in center, about two minutes.
4. Add wine; simmer until almost all the liquid is absorbed, stirring often, about three minutes.
5. Add hot broth one cup at a time until the rice is about half cooked, allowing each addition to be absorbed before adding next and stirring often, about eight minutes.
6. Add in sautéed zucchini and carrots. Continue adding broth one cupful at a time and stirring until rice is almost tender, about eight minutes longer.
7. Add peas (if using frozen).
8. Cook until the rice is tender but still firm to bite and the mixture is very creamy, about two minutes longer. Total cooking time should be around 23 minutes.
9. Remove from heat. Add O cup cheese and two tablespoons of butter. Stir until the cheese and butter melt. Season with salt and pepper to taste. Serve, passing additional cheese alongside.
Note: To determine the risotto's doneness, first take a look at the pot to ensure that the risotto is creamy and slightly runny at the edges. It should not be thick and clumped together. Take a taste. The rice should be mostly soft with a small bite on the softer side of al dente.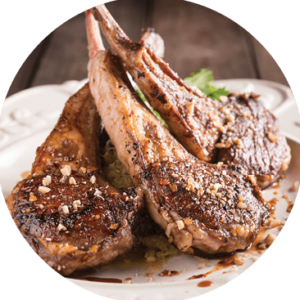 Lamb Chops a Scotta Dita (Burn-your-fingers style)
Serves 4

4 Tbsp Dijon mustard
3 tsp minced garlic
5 Tbsp balsamic vinegar
K tsp chopped fresh rosemary
O tsp kosher salt
N tsp freshly ground black pepper
1 Tbsp water
16 K-inch to 1-inch lamb chops (it's easiest to buy 2 racks of lamb 
and cut into 16 individual chops)
1. In a bowl, combine the Dijon mustard, garlic, vinegar, rosemary, salt, and pepper with one tablespoon of water. Whisk until incorporated.
2. Add the chops to the marinade and toss to coat evenly. Marinate the chops for one to three hours, covered and refrigerated.
3. Preheat a grill or grill pan to very hot.
4. Shake the excess marinade from the chops and grill two to three minutes per side for medium rare, or slightly longer for more well done.
5. Transfer to a warm platter and serve. No forks or knives necessary!
Aperol Spritz
Serves 1

1K oz of Aperol liqueur
3 oz prosecco or other dry sparkling white wine
Splash of seltzer (I use orange flavored seltzer)
1 orange slice for garnish
Fill a white wine glass halfway with ice. Add the Aperol, prosecco, and seltzer and stir. Serve with an orange slice and straw if desired. The drink can be adjusted for sweetness by adding more or less seltzer.