GROWING, DEVELOPING, CHALLENGING, AND MATURING 
AT CONCORD'S SUMMER DAY CAMP
"We're serious about fun" is the motto of Concord's Parks and Recreation Department, and Assistant Director Laura Bryant aims to provide some serious fun for kids all summer long. The department has extensive programming and events throughout the year, all of which require planning and organization, but its Summer Day Camp program is the most challenging. Laura is responsible for the operation of the camp, a project that is both daunting and exciting.
For eight weeks each summer, she plans and schedules day-long activities for approximately 800 first through eighth graders. All the activities are designed to enlighten, educate, and excite kids ages 6 to 14.
The Stay and Play Camp is for first through fifth graders. Recreation Adventure Camp is for third through fifth graders. And Teen Adventure Camp is for sixth through eighth graders. Field days—where youngsters go hiking, visit theme parks, and learn kayaking—are held four days a week. A new Nature Camp starts this year, which will take place at Concord's White Park. Children will explore nature rain or shine, and getting dirty is not only allowed but encouraged.
A LOVE OF THE OUTDOORS
Laura joined Parks and Recreation nine years ago with a Bachelor of Science degree in Recreational Management and Policy from the University of New Hampshire. Laura says this field came naturally to her. She cites her family's love of outdoors and athletics. Her grandparents live near Lake Winnipesaukee and always hiked, walked, and swam. When they retired, they hiked the Appalachian Trail. They are both in their nineties now and Laura believes that their outdoor lifestyle has contributed to their longevity and good health. Laura's mother enjoys similar physical activities and encouraged her children to be outdoors. "As kids, my sister and I had to play outside," she says.
Today, children don't get enough outside experiences, Laura says, largely because they've been replaced by their interest in electronics. One of the camp's policies is that the campers can have a mobile phone, but they have to keep it in their backpack. Understandably, parents want their children to be able to reach them, so smartphones are allowed; however, there is not much downtime at camp for campers to use their phones. Even the staff are limited in their cellphone use. The camp counselors have department-issued mobile phones, for use only in case of an emergency.
A NEW SPACE TO LEARN AND PLAY
The Parks and Recreation Department's new building—the City Wide Community Center—opened last summer at the site of the former Dame Elementary School at 14 Canterbury Road. Construction began in 2017 to raze a portion of the former school and renovate a retained wing. The community center includes five multipurpose programming rooms; two rooms for exercise, dance, and aerobics; a lounge for senior citizen activities; a multipurpose auditorium; a gymnasium with two basketball courts, pickleball courts, and volleyball courts; and the Parks and Recreation administrative offices. And of course, it's home to the Summer Day Camp program.
Open and spacious, the new lobby was designed to have a modern, campus-like feel. Outside the large windows is an expansive lawn. In the summer, Laura says it's packed with campers enjoying snacks and lunches and running and playing. Beyond the lawn are the pool, tennis courts, playground, and athletic fields, everything the campers enjoy.
While the camp is open to all Concord residents, it also allows nonresidents from other towns and states. This means that Concord campers get to meet a boy or girl who may be visiting grandparents from New Jersey, for example. They may become friends for years. Campers also get to meet students from other elementary schools and then reconnect with them when they attend the same middle school. Ninety percent of the campers' parents work, so the camp is of vital importance to these families. Scholarships are also available so that everyone has a chance to enjoy this wonderful summer resource.
CAMP COUNSELORS
Every summer, the Parks and Recreation Department hires 40 full-time lifeguards, 12 camp counselors, and 15 temps, making the department the city's largest at 150 employees. The camp's counselors—most of them ranging from age 18 to their early twenties—have the responsibility of being with youngsters and keeping them active and safe all day.
According to Laura, it takes a special young adult to be a camp counselor. They key ingredient? "They have to like being active and playful," Laura says, but that's not all. They have to have a temperament for being with young people—all day, five days a week—for eight straight weeks. "Kids will eat you alive," she jokes. Forty hours of training, including role-playing in counselor-camper situations, is required.
Throughout the summer, Laura works hard to keep the counselors motivated and happy. She recognizes that "After about four weeks, they may feel burnt out." She will treat them to ice cream and other rewards to show her appreciation.
Some counselors return year after year, like Cassidy Emerson, who will return this summer for her fifth year. The position of camp counselor correlates perfectly with her college major; she is studying youth development and after graduation hopes to pursue a career in special education. For a young adult, Cassidy already has a wealth of knowledge about children, which includes understanding the value of being flexible. What works one day with a certain group of kids, she says, may not work another time. And while she handles a group of 25 to 28 kids at the camp, when on field trips, she and the other counselors split the group so that each has responsibility for approximately seven kids. Those outings are especially demanding, as they must keep a constant eye on each child.
Cassidy has learned to recognize key differences between the ages. While the youngest ones may not know about certain behaviors, the older ones may try to get away with pushing the boundaries. Cassidy seems attuned to observing and reading children, as if her role as counselor is an extension of her college studies. She enjoys watching children change and grow week to week, which she finds "the coolest." She also finds it cool to see older children step up to help the younger ones. Unsurprisingly, Cassidy has developed relationships with some of the campers and has attended their sports games.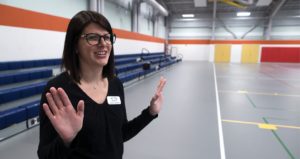 GETTING THE MOSTOUT OF EVERY DAY
Cassidy also regards the new building as truly fantastic. With the gym, classrooms, movie room, library, and supplies, there is an endless array of activities to do, both inside and outdoors. She says that Laura always has great ideas for how to get the most out of each day. Laura does research year-round for new activities. She looks at magazines and listens to parents' recommendations. She has two young children of her own, so she also learns on the job at home.
Favorite activities with campers are tennis, soccer, bracelet-making, dance, and cooking. Laura is always thinking about what will interest campers, and she has learned along the way what works—and what may not work. For example, the cooking class on making salads did not go over well compared to the fun of making Rice Krispie treats and strawberry shortcake. Laura's goal is "to capture their attention so they have fun, get along, learn, and grow."
When Laura hears a parent say, "My kid had a great day at camp," it makes her day. She feels rewarded when she sees a young boy or girl sweaty and smiling as he or she heads home at the end of the camp day. She loves to hear them say, "That was awesome."
When parents say they're surprised their son or daughter did a certain activity—like climbing at Gunstock Adventure or kayaking on a river—Laura is so happy the camp experience exposed their child to something new. The activity may not be something a camper pursues for a lifetime, but many of these memories will certainly last a lifetime. In this way, the camp is about growing, developing, challenging, and maturing.
Last year, the camp held a cardboard sailboat competition. Each team built a cardboard sailboat and a race was held in the pool. The campers not only had fun but they were excited about competing. While only one team won, the campers learned about teamwork. Laura likes to think that they experienced a bit of character building, too.
Paramount to Laura and the staff is the concern for the safety of all the campers. "Head counts are critical," she says. It is also important that the kids are mindful of how they treat the counselors. "Counselors take their job seriously," she says. "Their feelings can get hurt." As the assistant director, Laura strives for everyone to get along. After all the careful planning and scheduling that goes into each summer season, she likes to see that everything pretty much falls into place. Most of all, she wants everyone to enjoy the experience.
One eight-year old boy has been to Summer Camp twice and will be returning this year. He has already decided he wants to join Stay and Play for half the summer and Recreation Adventure Camp for the second half. At the groundbreaking ceremony for the new facility, he was invited to cut the ribbon with a pair of golden scissors.
As we talked, I was impressed with his rapid flow of thoughts and creative ideas, not to mention his boundless energy, as he neither sat nor stood still for very long. He said he mostly enjoys the sports activities like soccer, basketball, tennis, and swimming. "What else do you like to do?" I asked him. Shifting his look to Laura, he said, "I think we should have a media and tech activity."
"He loves computers," his mother added.
Laura quickly answered, "I'll have to think about that."
Throughout the summer, there are stressful times and Laura has to remind herself, "We're serious about fun." When it's all over, Laura enjoys the satisfaction that comes from feeling everything was a success. When she and the counselors say goodbye to the last of their summer charges, there are plenty of tears—from sheer exhaustion—and also from joy and sadness that it's all done for another year.
As for the future, Laura's goal is to maximize use of the recreation facility for Concord residents, from toddlers to seniors. It's a goal that will continue to keep her almost as busy as she keeps her summer campers.
To learn more about the camp's options, visit www.concordparksandrec.com. Like them on Facebook at www.facebook.com/concordparknrecdept.