THE HOTEL CONCORD OFFERS A RELAXING ESCAPE FOR AN EVENING OR OVERNIGHT
Arrange a babysitter for the kids and head downtown for drinks, dinner, a show, and then, if further escape is desired, a quiet night in a beautiful room. The next morning enjoy breakfast and pop into Gibson's Bookstore before returning to regular life. It's a pied-à-terre—a romantic diversion—from the routine that doesn't have to take you far away.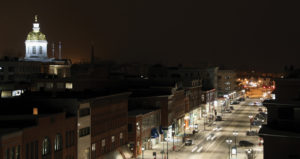 Although The Hotel Concord draws a lot of businesspeople and tourists, Sue O'Donnell, the hotel's general manager, says they host quite a lot of Concord residents and people from surrounding towns looking for a unique hotel experience and getaway. And why not? The Red River Theatre is attached to the hotel as is the Storrs Street Municipal Parking Garage. There is also the hotel's bar and lounge area, The Lobbyist, which is attached to O Steaks & Seafood. If the mood suits, you don't have to take one step out into spring rains to enjoy a full evening out.
Beyond the hotel's amenities, there is the Capitol Center for the Arts, downtown shops and restaurants, and the Audi (Concord City Auditorium) just a few blocks away on Prince Street. "A lot of local people stay here because they feel like it's a home away from home," Sue says. "Especially in the winter with the snow and the ice and everything. How convenient—you can park in the garage and you don't even have to clean off your car."
THE COMMUNITY'S HOTEL
In fact, Sue adds, their first-ever guest was from Hopkinton, and they have regulars from Bow and Concord that come to stay every month. Primarily, she says they are drawn in by the hotel's amenities, particularly the 10 rooms on the sixth floor with balcony access that overlooks Main Street, the State House, or the Merrimack River. "To be able to sit and have a glass of wine or dinner, it's just different," Sue says. "Even if you've lived in the area your entire life, it's not an experience you could get anywhere else."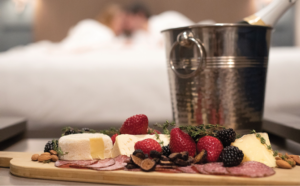 But you don't have to spend the night to enjoy a respite within the hotel as you take an evening out. Michael Simchik, The Hotel Concord's owner, says he hopes the hotel's first-floor space becomes a hub for people in Concord to relax, drink coffee, listen to jazz music over the lobby speakers, or read a book. It's also a quieter, more low-key atmosphere for meetings, he adds. "We view ourselves as a community-oriented hotel. We aren't a chain," Michael says. "We like the vitality of having people being in that lobby space and the vibrancy of being the downtown meeting spot."
President of the Concord Chamber of Commerce Tim Sink says The Hotel Concord is a perfect addition to the progress the downtown has already made toward being a hub in the capital region. "The downtown is so full of culture and art right now and The Hotel Concord gives visitors an access point to all of that," he says. "We hope it makes people who live here proud of the downtown, and that it makes the downtown a place where they want to spend their time."
COMFORT AND STYLE THAT CELEBRATES OUR STATE
Each room in the hotel is unique, Sue says. None of them are designed with the same layout or with the same art. The rooms also include Amazon Alexa programming so guests can deliver messages or requests to the front desk using voice commands. Guests can opt in and out of it, Sue adds.
The fourth floor has an executive lounge with a fireplace and cozy couches and books. The sixth floor also has similar space with seating and flat-screen televisions. There is also a large fitness room full of state-of-the-art equipment.
The Hotel Concord also pays homage to the city's and state's political heritage by displaying a series of iconic presidential campaign images. There is George W. Bush enjoying a picnic at a colonial farmhouse in Stratham. John F. Kennedy is chatting with Saint Anselm College students after a campaign rally. Ronald Reagan is holding up a knit sweater reading, "I love New Hampshire."
"It's really a tribute to New Hampshire history, like a walking tour of political art," Sue says. Michael spent months reviewing and captioning close to 80 photos from the New Hampshire Institute of Politics at Saint Anselm's College in Manchester before the hotel opened in August. Some photos are displayed on the first floor of the Capital Commons—a multiuse building where The Hotel Concord is located—and many are on the fourth and sixth floors of the buildings, where the hotel's rooms are.
For Michael, the photos are a way to help visitors appreciate New Hampshire's rich political history while maybe learning a few things, too. They're also a way to create an inviting atmosphere for locals to celebrate and interact with the Granite State's past, he adds.
Jamie Simchik, Michael's son and the hotel's developer, adds that the imagery is just one piece of their desire to create a welcoming environment for the community that the hotel calls home as well as for business travelers and tourists visiting our region. 
The Hotel Concord
11 South Main Street
Concord, NH
(603) 504-3500
www.hotelconcordnh.com