After a long and cold winter, spring can be a time when people look for ways to regroup, refresh, and renew themselves to achieve a more balanced and healthy life. As nature blooms, communities have more locally sourced and fresh food options available. Spring is also a time when our sheltered bodies want to get outside and stretch and become more active after the winter slump. Several health providers and businesses in the Concord community are giving us a taste of how to do just that.
NUTRITION AND HERBS
The Concord Co-op's Wellness Program is one place where holistic practitioners can get their start educating the community about health and nutrition. Some have found their niche by teaching classes and helping customers identify the best whole foods and herbs to meet their needs.
Eating the best combinations of nutritious foods can be a challenge, especially when so often people are eating on the go or too busy to prepare a meal from scratch. But identifying the right food to meet our body's specific needs doesn't have to be a daunting task, says registered dietitian Traci Komorek.
Traci, who began as a wellness educator at the co-op about seven years ago, says people fear a dietitian's recommendations may be too restrictive and that they'll learn more about what they should stay away from rather than what they can eat. Through her own business, Fresh Roots Nutrition in Concord, she focuses on what people can have, as well as how food can be used as medicine to improve one's digestion, energy, and autoimmune system. "All food gives us energy, but nuts and seeds are a great source of protein, compared to if we grabbed a candy bar, which has a lot of sugar and refined oils," Traci says.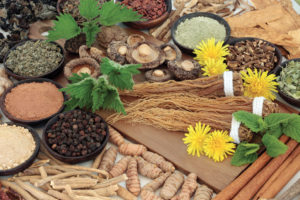 Individuals or families meeting with Traci for the first time provide a health history overview, their goals for the visit, a list of medications and supplements they're taking, and a list of foods they commonly eat and what their weekly meal preparations looks like. "Everyone leaves with an action plan that they feel is realistic," she says.
In addition to encouraging people to eat healthy foods, clinical herbalist Maria Noel Groves helps clients look for natural support from herbs to address their unique medical needs and concerns. Maria began as a wellness educator and volunteer at the co-op before opening her own business, Wintergreen Botanicals, LLC, in Allenstown in 2007. She teaches classes across the country and is preparing for the publication of her second book, Grow Your Own Herbal Remedies, in which she shares 50 of her favorite easy-to-grow healing plants, plus recipes and remedies that can be made from them.
"I look at herbs as training wheels. As you get better, you may find you can maintain a good state of balance with diet and lifestyle changes and stop taking the herbs, or you may not need as many," she says.
In springtime, bitter herbs that stimulate digestion become available as the ground thaws. After eating a lot of storage foods and grains, herbs like dandelion root can help bring the body back into vitality, she says. Dense herbs can be made into teas, broths, and vinegar extracts.
Traci Komorek, Fresh Roots Nutrition
(603) 244-0549
www.freshrootsnutrition.com
Maria Noel Groves, Wintergreen Botanicals
(603) 340-5161
wintergreenbotanicals.com
YOGA AND MEDITATION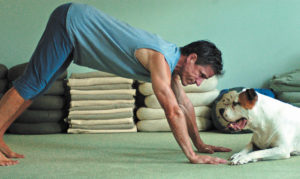 Stress can fuel a chaotic state of mind. For many, stress is a normal part of life as we juggle too many commitments, leaving too few hours in the week for self-care and relaxation. Meditation and yoga can help people step back from that chaotic universe and gain a more balanced perspective, says Jim Readey, owner of the Yoga Center in Concord. For those unfamiliar with meditation, the image of someone sitting cross-legged on a cushion in a quiet room with a lit candle may come to mind. That image may accurate, but it fails to tell the full story.
"Meditation can happen in that environment, but it can also happen when you're out walking in nature," Jim says. "Meditation is simply a way to observe our own functioning and it leads to more self-awareness. Yoga is designed to do the very same thing, but it does it initially through physical movement and breath work, both of which are designed to get energy flowing through our bodies again."
Jobs often require people to sit at their desks or in their cars for long periods of time, causing the body to become stagnant and depleted. Meditation can help the body recover from inactivity and learn to heal on its own. "When we step away from our lives, we start to see things much more simply. Our priorities shift and we start to remember what's important," Jim says. "We must learn how to relax, breathe, feel, and allow."
In addition to yoga for beginners and advanced students, Jim teaches yoga nidra, which is a guided form of meditation that helps the busy mind relax on physical, mental, and emotional levels. His work helps people combat insomnia, anxiety, depression, and physical ailments.
For those interested in trying another form of meditation, an introductory workshop on Transcendental Meditation followed by one-on-one instruction are available in Concord. Transcendental Meditation teaches people how to access the silent part of the mind that is always there but often drowned out by the hustle and bustle of daily life. Through instruction, students learn the practical details of sitting down for two 20-minute meditations each day.
"This is a completely natural and effortless technique; it doesn't require focus like other forms of meditation," says Bill Rist, who taught in Concord for about 10 years. "I've worked with a child as young as 10 and my wife taught a relative who is 92," Bill says. "Transcendental Meditation is universal and can help anyone."
Jim Readey, the Yoga Center
(603) 224-2183
www.nhyogacenter.com
Transcendental Meditation
www.tm.org/transcendental-meditation-new-hampshire
MOVEMENT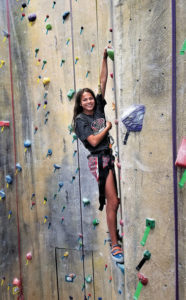 A warmup on the treadmill, a couple miles on the elliptical, and some strength training are aspects of a more traditional workout at the local fitness club or gym. But not all forms of exercise fit into that narrowly defined box.
At EVO Rock + Fitness in Concord, staff members say those who learn to rock climb work muscles that those traditional workouts don't often touch. Plus, the act of rock climbing and bouldering challenges the mind because people must plan their next move and find the best way up the wall.
"You truly get a full-body workout, and that includes really using your core," says Mark Vasta, general manager at EVO. "Climbing is something you really have to work at, and you can't let yourself get discouraged. It can be a fun but also humbling experience."
EVO has several options for beginning climbers. The staff recommends an introduction to climbing class for people looking to learn the basics. The gym also offers adult classes and courses for the more experienced belayers.
"It's really a social sport," Mark says. "When you're climbing and it's you against the wall, it helps to have friends cheering you on from below. We have families that come together and people who regularly meet up here to climb." In addition to individual classes, the facility also has a team-building program that welcomes businesses and collegiate sports teams to use exercise to build trust and bolster communication in an out-of-office setting.
If exercise that defies gravity is of interest, EVO's fitness studio also offers classes in aerial yoga. Aerial yoga combines yoga, gymnastics, dance, aerial arts, and meditation while using a fabric hammock, sometimes called a yoga swing, to help students achieve different positions.
For those who want to stay more grounded, Concord is not short on options. Concord Dance Academy is open to students of all levels and offers adult classes for folks 19 and older. Classes in jazz and tap incorporate floor exercise and movement, while hip-hop incorporates jazz. All teach musicality and rhythm.
EVO Rock + Fitness
(603) 715-9171
www.evorock.com
Concord Dance Academy
(603) 226-0200
concorddanceacademy.com/adult-classes
AROMATHERAPY AND BEYOND
Surgery, cancer treatment, the birth of a baby, or an accident are just a few of the many life events that could require hospitalization. The time spent receiving medical care can trigger a wide range of emotions for people, including fear and anxiety.
For decades, Concord Hospital has worked to offer complementary holistic services to those receiving healthcare through more traditional means. Thanks to programs like aromatherapy, therapeutic painting, and Reiki, patients have found artistic outlets to express themselves and also a place to channel stress, says Alice Kinsler, an arts therapist and manager of the hospital's Therapeutic Arts and Holistic Services.
"When people are feeling vulnerable and at the most fragile or difficult time in their lives because of a health crisis, we really want to help them feel more like themselves, to restore that self-esteem, pleasure, confidence, and delight," Alice says.
Aromatherapy is one of the newer services available to patients who have the option of selecting from six different essential oils depending on their unique discomforts and needs. More than 100 staff members have been trained in providing aromatherapy, and roughly 2,000 patients have received aromatherapy at no cost during their stays.
Nausea may be reduced through the inhalation of peppermint or ginger. Stress and anxiety may disappear thanks to the use of lavender. "People say they appreciate having something they can control themselves," Alice says. "People want alternative ways to manage pain, discomfort, and anxiety. That's especially true for people who have a history of substance-use disorders and are very mindful of not wanting to go back to that."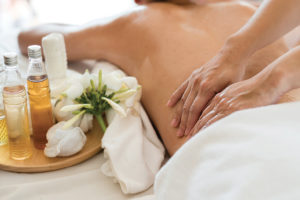 Patients are given small bottles that include a cotton pad and a few drops of the essential oil, which they can take home with them. Alice says she knows of one man who carried the bottle in his pocket wherever he went, including to a therapy session. He proudly showed his therapist how he was using lavender to help cope with anxiety. "We're providing something that someone can leave with and introducing them to the idea that aromatherapy can support their health when coping with illness, not just in the hospital but after," Alice says.
For those looking to incorporate aromatherapy as part of a regular massage, Elements Massage in Concord offers a wide range of essential oils to energize, calm, or refresh. Using essential oils can enhance the after effects of a massage and renew the mind and the body. 
Concord Hospital's
Therapeutic Arts
and Holistic Services
www.concordhospital.org/patients-visitors/
therapeutic-arts-and-
holistic-services/
Elements Massage
(888) 974-9261
elementsmassage.com/
concord/aromatherapy