LOOKING GOOD WHILE STAYING WARM
When winter storms come rolling through, we tend to dig out the old, reliable coat and hat that have fended off face-numbing winds for more years than we can remember. They are tried and true, but perhaps a bit passé and pockmarked as well.
Rather than ignore frazzled seams, fussy zippers, and thinning elbows for yet another year, indulge in a winter update. In fact, peruse the racks of the Capital area's clothiers and you'll find a seasonal wardrobe variety to suit a range of fashion tastes. And who knows? Maybe a reinvented look of New England winter-style staples will help flutter away those gloomy cold-weather blues.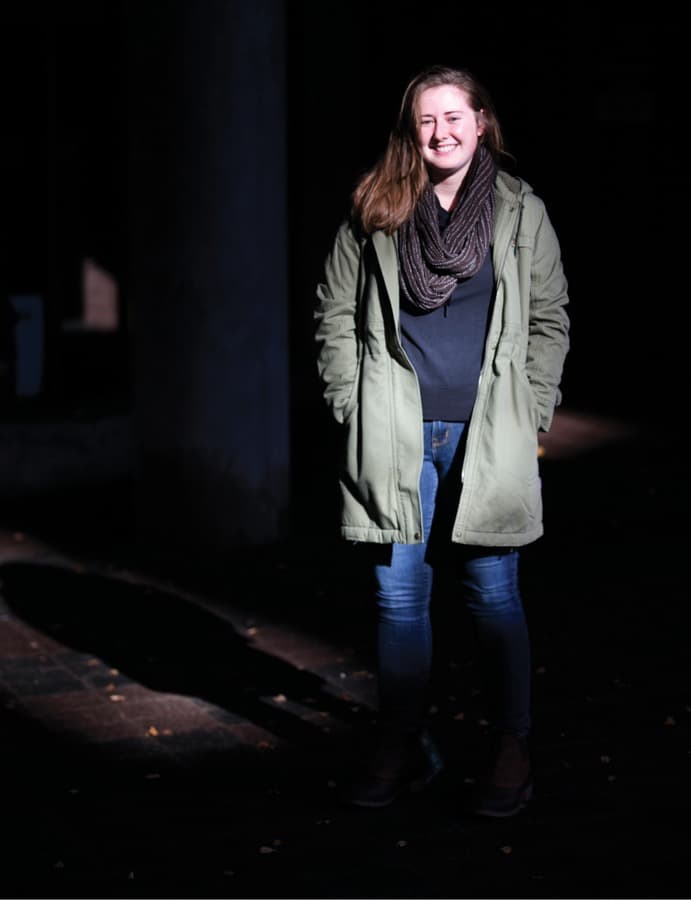 WELL-BUILT STYLE BY 
JOE KING'S SHOE SHOP
Find ways to leave the house wearing an outfit that flatters your physique and expresses your personal style—while staying warm. Winter weather provides the option to layer functional items that pair well together.
While dressing for comfort and warmth, there's no shame in slipping into your favorite pair of blue jeans before adding layers. Denim is functional and stylish in any season and can easily be dressed up with accessories.
Here, our model keeps her style simple with a black funnel-neck sweatshirt. This athleisure top is draped and loose but still features a flattering cropped cut. Made with soft, warming fleece, it pairs well with a leather jacket or your favorite sneakers and leggings. Preparing for the cold, she wears a heavy-duty knee-length parka equipped with a fully lined hood and hidden waistband adjustments that can be cinched or let out for a straight silhouette. The coat also includes drop-in hand-warmer pockets, and a drawcord and lock at the hem cinches for additional warmth. The solid army green goes along with the simple theme of the outfit while adding a touch of color. The stylish boots feature waterproof leather uppers and lightweight rubber bottoms to get her where she needs to go with dry feet. The brown boots with red plaid lining feature a removable insole that both cushions and retains warmth. A brown wrap scarf pulls the outfit together.
Staying casual with a pair of jeans is acceptable for men and women. For this outfit, our model is prepared for a winter day of running errands. He dresses up a simple pair of blue jeans with classy brown waterproof leather boots. Yes, waterproof dress boots do exist! Staying with neutral tones, he wears a gray long-sleeve tee shirt with moisture-wicking fabric that draws perspiration away from the skin, helping to keep him comfortable throughout the day. Next, he layers items to add flair to the ensemble. A patterned blue flannel goes along with the outfit's calming colors. A dark gray water-repellent vest ties it all together and offers protection from the cold winds.
JOE KING'S SHOE SHOP
 Kamik SiennaC boots in dark brown with red plaid lining
 Cirque Mountain Apparel Hoff Scarf
 Patagonia Insulated Prairie Dawn Parka in fatigue green
 UGG Miya Funnel Neck Sweatshirt in black
 Timberland PRO R-Value Flannel Work Shirt in navy blue
 Timberland Kendrick Chukka Boots in dark brown full-grain
 Timberland PRO Logo Sleeve Base Plate Wicking T-Shirt in grey heather
 Carhartt Quick Duck Jefferson Vest in charcoal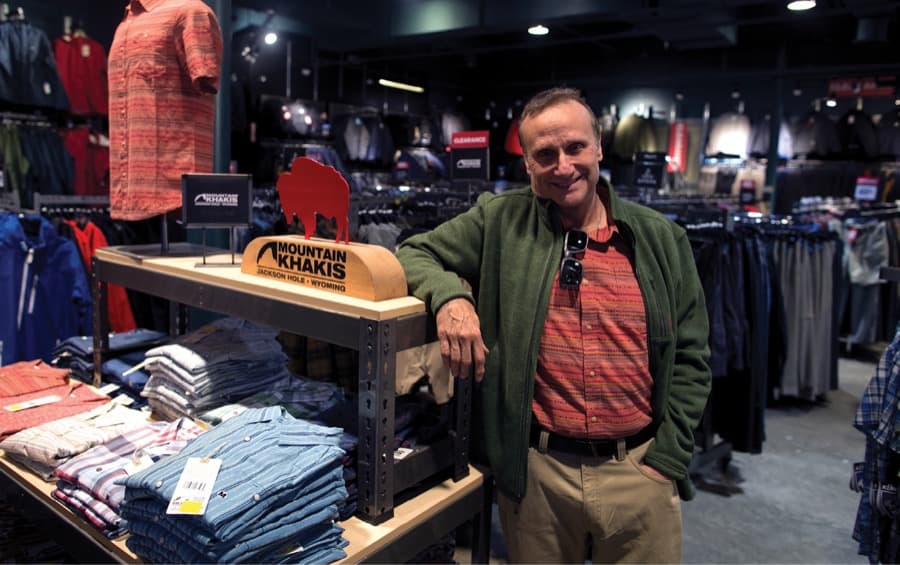 ATHLETIC CASUAL BY
EASTERN MOUNTAIN SPORTS
The Granite State is known for offering beautiful landscapes and plenty of outdoor activities. Many New Hampshire natives spend much of their time outside, regardless of the season. If you are one of those people but are unsure of how to bring your style and hobbies together in a tasteful manner, Eastern Mountain Sports has exactly what you need. Show off your outdoorsy style in clothes that can be worn for a day in the mountains or a casual evening dinner party à la New England chic.
A durable pair of khaki pants is a great investment going into the cold season. Their neutral tone allows for easy pairing. Our model matches his khakis with a red patterned shirt, showing off a colorful and quirky panache. The green jacket layered over the tee makes the color pop while giving off an earthy vibe, perfect for a day outdoors. His brown waterproof loafers complement the earth tones of the outfit and allow his feet to stay warm and dry. He accessorizes with a black belt and pair of black sunglasses around the neck to ward off bright white winter skies.
Women can also express an earthy vibe and style in casual athletic gear. This outfit is an example of how to wear dark denim jeans in a casual manner. This ensemble pairs dark-wash jeans with a solid-colored long-sleeve shirt. The salmon color is subtle yet distinctive, making the stone-colored fleece vest she pairs it with stand out. The vest is the star of the outfit—the lining creates a fitted look while the collared neck prepares her for winter warmth. The two-toned threads add richness and depth to the fleece layer. A stowaway hood provides additional warmth and protection from the elements when she needs it and zips into an oversized collar when she doesn't. She keeps it cool with olive-colored lace-up sneakers that feature molded rubber outsoles to keep her dry while walking around the city.
EASTERN MOUNTAIN SPORTS
Mountain Khakis Horizon Short Sleeve Shirt in red
EMS Go East Pants in chinchilla
EMS Roundtrip Trek Full-Zip Fleece Jacket in bronze green heather
SOREL Campsneak Lace-Up Casual  in olive drab
Kuhl Flight Vest in stone
EMS Techwick Vital Long-Sleeve V-Neck Tee in apple butter heather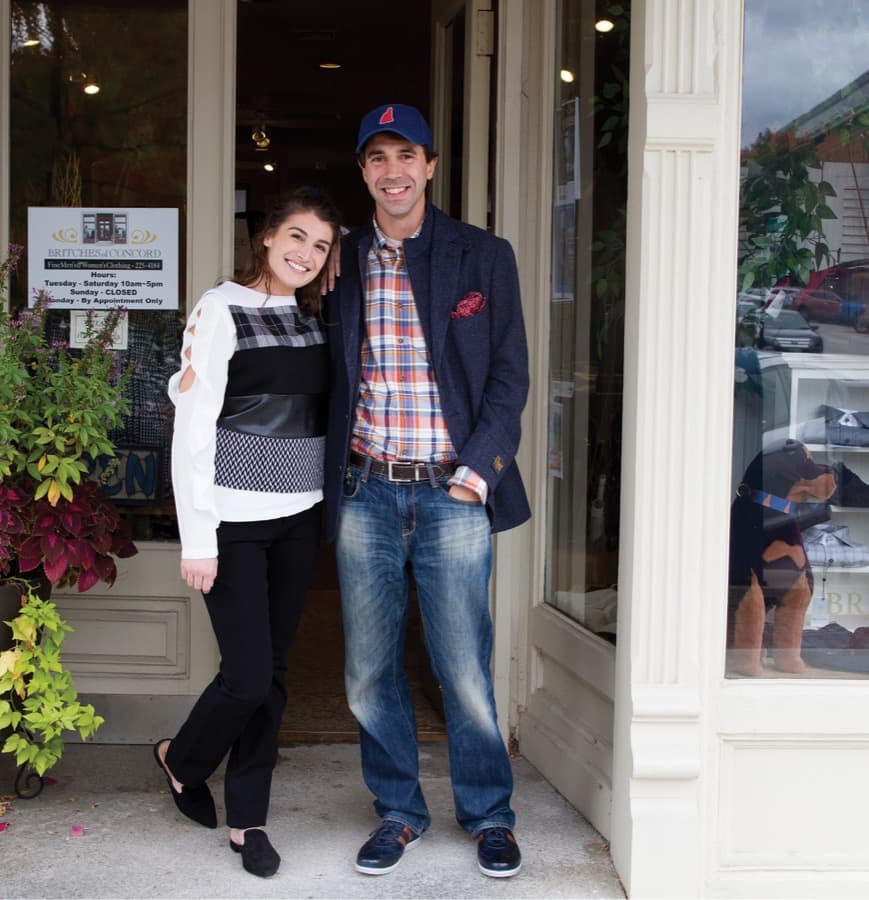 STREET-STYLE CHIC BY
 BRITCHES OF CONCORD
For the working man and woman, the winter months make it difficult to dress professionally yet fend off freezing rain, snow, and just plain cold weather. Britches of Concord offers high-quality, fashionable dresswear for those looking to—warmly—sport their best style this season.
In this outfit, our model starts with solid black stretch jeans. Black tends to be slimming, making you feel confident in what you're wearing. The stretch material provides comfort for a long day in the office. She adds a professional-looking white blouse on top with ruffled sleeves to give the outfit a bit of texture. A patterned and multilayered material vest over the blouse adds a funky yet fashionable twist. Plaid patterns are on trend this season, so don't be afraid to add a little flair.
For men, this outfit shows how to dress smartly. His layered-look sport coat with an interior zip inset is made from wool softened with a whisper of cashmere. The sport coat paired with washed jeans is a perfect look for a casual Friday in the office. A long-sleeve sport shirt in plaid goes along with this season's most popular trends and adds color to the look. Playing around with patterns, he accessorizes with a red and blue paisley pocket square. He creates a sporty look with the Turbo Sneaker by Robert Talbott with its athletic-inspired silhouette, stylish enough for a jacket and jeans while offering the all-day comfort of a traditional sneaker. To top off the ensemble, he adds a fitted baseball cap with the outline of his native New Hampshire.
BRITCHES OF CONCORD
FLYNT Two Button Notch Lapel Classic Fit Blazer in blue
Viyella Garnet Plaid Long Sleeve Sport Shirt in red plaid
Robert Talbott Turbo Leather Sneaker in navy
Harding-Lane Needle-Point New Hampshire Baseball Cap
Second Yoga Jeans Highrise Boot Cut in black
tyler böe Windsor Plaid and Leather Vest in multi-color
tyler böe Sherri Button Down Blouse in white
A FEW CONCORD CLOTHIERS TO PERUSE
Joe King's Shoe Shop
45 North Main Street
joekings.com
Eastern Mountain Sports
68 Fort Eddy Road
www.ems.com
Britches of Concord
1 Eagle Square #110
www.britchesconcord.com
Gondwana & Divine Clothing Co.
13 North Main Street
clothingnh.com
Fabulous Looks Boutique
86 North Main Street
www.fabulouslooksboutique.com
ReChic Boutique
10 North State Street
(603) 227-6101
What's in Your Closet Resale Boutique
9 Pleasant Street
wiycnh.wixsite.com/yourcloset
OUR MODELS
You may recognize some or all of our models as they are members of the Concord Monitor staff. They are also good sports to take a break from their work to show off some of the locally available styles and outfits.
Mike Pezone and Hannah Sampadian (the author) modeled for Britches of Concord.
Ray Duckler and Hannah Sampadian modeled for the EMS shoot.
And Ray Duckler and Leah Willingham modeled at Joe King's.