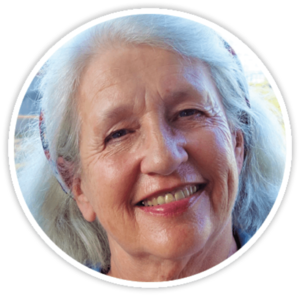 PAM TARBELL'S COLORFUL METAMORPHOSIS: ARTIST, ADVOCATE, BUSINESSPERSON
Sustaining an enduring career as an accomplished, award-winning painter and arts entrepreneur are exceptional feats for most artists. For Pam Tarbell, these are only two facets of a distinguished and comprehensive arts-centered life.
IN THE BEGINNING
First there was the bachelor of fine arts in Arts Education from the Rhode Island School of Design. Then came teaching after-school art and art history classes to area children. But there was still the yearning to combine education with her own creative work—and that of other artists—which 23 years ago led to turning her contemporary Concord home and expansive grounds into the Mill Brook Gallery & Sculpture Garden.
Open from May through December, the gallery features the talents of dozens of artists—some are fixtures and others rotate in and out—at any given time. Two downstairs rooms are full of paintings, ceramics, handmade jewelry, and small indoor sculptures. An upstairs gallery exhibits rotating shows of two artists. During fair-weather months, an expansive two-acre sculpture garden draws visitors from all over the state and New England.
The ardent painter, arts educator, and gallerista regards these collective roles—as well as guest speaker, visiting artist, arts volunteer, and art consultant—as the products of a years-long organic metamorphosis.
"Once I had the gallery, I taught more art classes and could sell my own art and the artworks of other artists," she says, adding that she ran the art gallery at the Kimball Jenkins Estate for three years before opening Mill Brook. "It also became obvious that there was really no home for the work of New England sculptors, so the sculpture garden began a couple of years later."
ARTS ADVOCATE
Pam was instrumental in launching last year's first and quite successful Main Street Sculpture Exhibit and remains connected to that event. This type of advocacy is nothing new for her. But Pam notes that bringing the visual arts to Concord and introducing many to contemporary sculpture for the first time is one of her proudest achievements.
"The exhibit really humanizes Main Street, and the brick-and-mortar people loved it. So did the public. Seeing public, citywide art displays make people excited, engaged, and happy."
To that end, Pam is now working on creating a self-guided tour of more than a dozen sculptures around Concord, including stops at the New Hampshire State Library and the Museum of New Hampshire History.
BUT SHE'S AN ARTIST, TOO
As a painter working and exhibiting for many years, Pam has created several thematic series encompassing several bodies of work. Her latest is called Migration Reflections. While each series is distinct, she says that the thread that binds them "is color, certainly, but also love of design and movement to create a different view of the world. Not your ordinary view but one creating a different perspective."
Vivid colors, movement, and momentum are apt descriptions of her carefully composed paintings. "I'm influenced by a love of the water and protecting the environment, and how important our wetlands are for the many animals, birds, and insects that live or migrate there. The wetlands are a cleaning system for our water and air, one we must protect. When walking or kayaking in these areas one is impressed with the many different layers of the environment.
"It's a complex system that results in more complex paintings."
A juried member of the National Association of Women Artists, Pam has exhibited her polychrome canvases in a fleet of two-person and group juried shows throughout New England for years. These include solo shows in:
Galleries such as the Gallery at WREN in Bethlehem and the Eastborne Gallery in Newport
Public spaces such as Concord Public Library, Dartmouth-Hitchcock Medical Center in Hanover, and New Hampshire Audubon
Museums such as Cahoon Museum of American Art in Cotuit, Massachusetts
Academic settings including the Lyceum Gallery at Derryfield School in Manchester; Merrimack College in North Andover, Massachusetts; and the Conant Art Gallery at Lawrence Academy in Groton, Massachusetts.
Upcoming exhibits of her paintings include a show at AVA Gallery in Lebanon in September 2019.
THE GALLERISTA
Selecting and displaying the works of others in her gallery and sculpture garden is another savored aspect of her arts career. "I love connecting with the artists from all over New England and making lifelong friends and meeting interesting clients that appreciate what I am doing," she says.
But this is all part and parcel of a working artist and advocate for the arts. "Across the country, there's been a downturn in buying antiques and the visual arts. The arts are a business, right under manufacturing, in billions of dollars, by which people try to support themselves. Artists work very hard to create artwork for our personal enjoyment and to improve our quality of life in our homes, businesses, or public spaces. They need your support."
Ergo the intersection of artist, advocate, and businessperson.
SOME OF THE FEATURED ARTISTS AT MILL BROOK GALLERY & SCULPTURE GARDEN
1. Hide Away by Mike Howat.
2. The Garden Angel by Tomie dePaola.
3. Esmeralda by Stephanie Bush.
4. Stoneware pottery by Dwo Wen Chen.
5. We Two Together by Michael Alfano.
6. Pottery by Boyan Moskov.
WHERE TO FIND PAM
Mill Brook Gallery
& Sculpture Garden
236 Hopkinton Road, Concord, NH
(603) 226-2046
11am to 5pm, Thu–Sun
May through December or by appointment
themillbrookgallery.com
Personal Website – pamtarbell.com