Change at Merrimack County Savings Bank
Bank sees off long-time CEO; brings up COO to fill role
by Daisha Cassel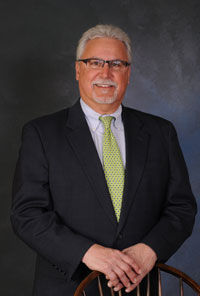 After 22 years at Merrimack County Savings Bank, the bulk of which he has served in the role of President and/or Chief Executive Officer, Ronald A. Wilbur is retiring from his role as CEO in September.
"I have enjoyed being part of the community, both personally and professionally," says Wilbur.  "For me being at Merrimack Community Savings bank was kind of a natural combination." Equally natural to Wilbur is the idea of transition in an organization such as The Merrimack. "I've viewed my role, and in turn my
successor's role, very much as a steward of this institution." Wilbur explains that the bank is a mutual institution and as such, "I really think the job is to take hold of the organization, get it to a better place for all involved, and ultimately turn it over to someone else to be the next steward."
That next steward will be current President and COO Paul C. Rizzi, Jr., who is a long-time veteran of the bank. "After more than 14 years as COO working with Ron Wilbur and an all-star team of dedicated and caring professionals, I feel very well prepared to take on the leadership role," shares Rizzi. "Merrimack County Savings Bank is truly a community asset in the markets that it serves, and I am honored to have the opportunity to lead it into the future as CEO."
Following his retirement, Wilbur will continue to serve on the Board of Directors.