Red Sox fans enjoy a weekend in Charm City.
By Mike Morin
Photography by Gary Wong
I was a Red Sox fan before being a Red Sox fan was cool. I grew up in Detroit, also known as Tigertown, where the Tigers won the World Series in 1968, my senior year in high school. I loved my hometown team, but I also secretly loved the Boston Red Sox. I moved to Boston 16 years later in 1984, ironically the same year Detroit won another championship. That didn't matter to me. I was now free to come out of the closet and cheer for Rice, Dewey, and Remy. At the time I didn't know, nor did I care, that fully two decades would pass before the curse of the Bambino would be forever broken.
By now, a ticket to a Sox game at Fenway Park was already the hottest and hardest ticket in town to get. So hard, in fact, that not one seat has gone unsold since before May 15, 2003. What's a faithful member of Red Sox Nation to do? Then it came to me: Catch a Southwest flight out of Manchester to Oriole Park at Camden Yards, unofficially known as "Fenway South," when the Red Sox are playing in Baltimore. It's a trip I've taken twice and will continue to many more times. You're there in just over an hour, quicker than a car ride from Concord to Boston. Oriole orange gets replaced by Red Sox red inside the highly acclaimed downtown stadium, practically creating a home field advantage for the visiting Sox. Despite declining Oriole attendance in recent years, turnstiles spin like whirligigs when the Red Sox come to the stadium by Chesapeake Bay.
Sox Fans at Camden Yards
"I try to get there every year," says Janice Page of Henniker, who is a registered nurse at Concord Hospital and serves as New Hampshire governor of Red Sox Nation. "I went twice in 2007. Camden Yards is such a beautiful ball park. Inner Harbor is a great family area. I've never paid more than $25 for a ticket, so it's affordable for families," she adds. Page is right on the money. When you take into account the price of Fenway tickets (if you can legally find any), paying $50 to park after getting stuck in the rat maze known as Kenmore Square, then spending $100 to feed a family of four, it's not that much more to make a weekend of it in Baltimore and see two games while you're there. Depending on the price of gas, driving might save you even more money. Caravans of Concord-area Sox fans take cars and buses. Judy Becker of Hooksett, a nurse case manager, took a motor coach trip with a group from Catholic Medical Center last summer. "We stayed just outside downtown Baltimore at a Marriott about 20 miles away," says Becker. "We also toured the Inner Harbor and took a water taxi. As a nurse, I enjoyed the Johns Hopkins tour that was very interesting."
Sights & Delights
There's plenty to see and do in downtown Baltimore, with many attractions being short walking distances from the stadium. The Maryland Transit Authority has an efficient transportation system, Light Rail, which runs from BWI Airport and stops near Camden Yards plus several places in between, making this an easy trip without a rental car. Besides your automobile, you should plan on leaving your Dr. Oz diet books at home. Eutaw Street, which runs directly behind right field, the equivalent of Boston's Yawkey Way, is crammed with food vendors. Red Sox fans walk shoulder-to-shoulder, jockeying hot dogs and roast beef sandwiches, trying not to spill a drop of precious beer on a fellow Sox fan. Even former Orioles great Boog Powell has a food stand. Billowing plumes of openpit smoke beckon hungry Red Sox fans to sample grilled ribs from Boog's Barbecue, behind the right field wall of Oriole Park. Sox fans also go home with sample packets of Old Bay seasoning, the must-have, not-sosecret ingredient in those famous Maryland crab cakes, which are handed out by roving Eutaw Street hawkers. Not everyone thinks Baltimore ballpark food beats Boston's. "Oh boy, I guess I'd have to say Yawkey Way has better food," says Page. "When you go to Baltimore you want to try new things. My kids are crazy about Dippin' Dots (ice cream). They don't have those at Fenway." Page also finds lots of fellow Red Sox Nation tourists tend to congregate at chain eateries like Cheesecake Factory and Hard Rock Café, in addition to several local restaurants and pubs nearby. Despite an overwhelming Red Sox presence, Orioles fans can get noisy when their team does well, which hasn't been often in recent years. The centerfield jumbo scoreboard teases Red Sox fans with lots of tongue-in-cheek barbs during the game. It's not unusual to see more than 20,000 Sox fans for weekend games in Baltimore. "Baltimore is a very friendly city. The people are very friendly," says Page. Becker agrees. "They [Orioles fans] treated us very well. There were a couple of young guys in our section and there was some goodnatured ribbing back and forth," says Becker. Not so in New York. "We've been to Yankee Stadium and weren't too impressed. The food wasn't as good and Yankees fans aren't the most gracious," Becker adds. My informal survey of Oriole Park food vendors and seat ushers backs up Becker's assertion that Boston fans are by far more pleasant when visiting Baltimore than are Yankee followers.
First Love: Fenway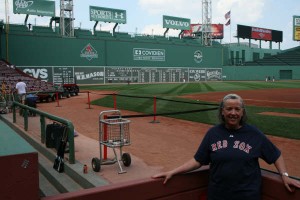 br
Despite the lack of Fenway creature comforts, there's still no place like home. New Hampshire Red Sox Nation governor Page still remembers her first visit to a Sox home game 29 years ago. "I was 25. When you walk through the tunnel and see the Green Monster, it's an awesome feeling. When I talk to someone, I tell them you gotta prepare yourself for when you walk through the tunnel. I still have the stub. It was 1980. The ticket price was about $8.50, two rows off the field," she recalls. While Fenway Park prices are a bit higher than eight bucks these days, Baltimore remains an affordable option. Becker plans to introduce some young family members of Red Sox nation to Fenway South this season. "We may go to Baltimore this year, especially since Southwest has reasonably priced flights. I may take my 10- and 12-year-old grandsons." I'm right behind you, Judy. Tiger Stadium is long gone and I'm still in love with the Red Sox. Plus, nothing beats a rack of Boog Powell barbecue ribs and a cup of Dippin' Dots.