Elevate your cocktail game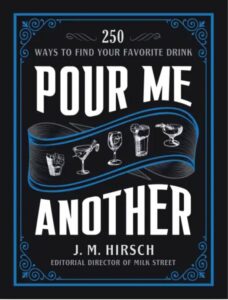 The premise for "Pour Me Another," a new book by Concord author J.M. Hirsch is simple. If you love a good cocktail, and generally know what you like, Hirsch guides you in new directions with pages of fun takes. If you love a Gin & Tonic, try the refreshingly sweet & sour Satan's Halo. Is your go-to order the classic Mojito? Switch things up with the bold and briny Dunlop. Everyone loves a Margarita, but have you tried the Manhattan-inspired La Rosita? Discover the versatility of Vodka with a cousin to the Martini, in the botanical Stupid Cupid. For this issue, Hirsch shares recipes for a couple of classics, and explains the artistry that goes on inside the glass.
MARGARITA
For most of us, this is where tequila begins. Yet the origins of the classic Margarita mostly are lost (and the stories you've heard likely aren't true). What we do know is that it is part of the Daisy family, referring to drinks made from a mix of a liquor, orange liqueur, citrus juice and soda water. Leave out the soda water and you get a Margarita, which translates from the Spanish as "daisy flower."
While there are many creative iterations of the Margarita, two approaches stand out. The classic calls for two parts liquor, one part orange liqueur, and half to three-quarters part citrus juice, the sweetness coming from the liqueur. The other approach, famously created by Tommy's in San Francisco, substitutes a bit of agave syrup for the orange liqueur, the idea being to play the agave backbone of the tequila and sweetener off one another.
I say, why take sides? I prefer my margarita to have a little of both. The high acidity of the cocktail balances all that sweetness, while the orange flavor keeps things light and bright. Finally, the salt. All the flavors at play here love a little salt. But don't put it on the rim of your glass, where it blows out your ability to taste anything else. Instead, add just a few granules to the drink itself to heighten and highlight all the other flavors.
Ingredients
2½ ounces blanco tequila
1 ounce lime juice
¾ ounce orange liqueur
¼ ounce agave syrup
6 to 10 granules kosher salt
Ice cubes
Mix it: In a cocktail shaker, combine the tequila, lime juice, orange liqueur, syrup and salt. Shake with ice cubes, then strain into a rocks glass with 1 large or 2 standard ice cubes.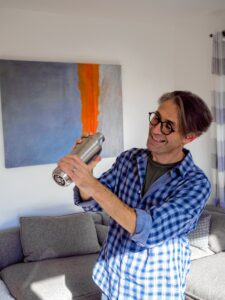 OLD FASHIONED
The Old Fashioned is one of those cocktails that truly has been through the wringer. Many of the oldest recipes are nothing more than some indiscriminate whiskey with a sugar cube and bitters, sometimes a splash of water. A few recipes, as in Harry Johnson's 1882 Bartenders' Manual, added a dash of absinthe or Curaçao to the mix "if required," as he said. Things went along merrily until Prohibition meant the rotgut Americans were forced to drink no longer could be appreciated in such simple form. Cue the addition of fruit to the Old Fashioned. In time, that became the standard, and sadly so. But in recent years, we've seen a return of the so-called pre-Prohibition-era Old Fashioned. Thankfully! This is my very simple take on that classic. I'm adamant about not adding much ice to my Old Fashioned, but adjust as you see fit.
Ingredients
3 ounces bourbon or rye
⅛ ounce (¾ teaspoon) agave or simple syrup
Dash orange or Angostura bitters
1 small ice cube
Mix it: In a rocks glass, stir the bourbon, syrup, bitters and ice cube.
J.M. Hirsch is a James Beard Award-winning food and travel writer. He is editorial director of Christopher Kimball's Milk Street, a Boston-based food media company with a 140,000-circulation print magazine, award-winning cookbooks and public television and radio shows that reach millions of viewers and listeners. His previous cookbooks include High Flavor, Low Labor and Beating the Lunchbox Blues. He lives in New Hampshire with his son, husband and two cats.