Sal Prizio came to Concord just as winter was settling in. It's a time generally reserved for annual holiday shows and big public gatherings. Instead, he found himself navigating an industry still in the throes of a crisis.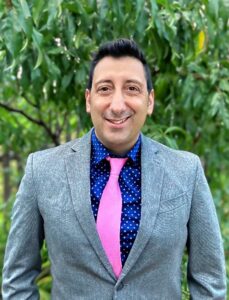 Now, as we head into summer, Prizio can finally see the city's arts scene starting to re-emerge, and as the new executive director of the Capitol Center for the Arts, he has a big role in helping to bring the community back together. Sarah Pearson of Around Concord magazine took the opportunity to ask Prizio about his arrival, the summer ahead and his long-range vision for both the Capitol Center for the Arts and the smaller and newer Bank of N.H. Stage.
Around Concord: You arrived to Concord last November and your family shortly thereafter. What were your first impressions of the city?
Sal Prizio: My first impressions have been very positive. I love the combination of small-town vibe with access to many of the amenities you find in larger cities. Additionally, the people here have been so welcoming and friendly. It is great to have your new home feel very much like home!
AC: Can you share a little about what got you interested in pursuing a career in the arts and entertainment industry?
SP: I could go on about this for days, but it is really my love of music and performance. I played in a touring rock band out of NYC for years and I always fed off the energy of an audience. When I decided it was time for a change, I knew I needed to be passionate about what I was doing for a living. Being in a position of providing entertainment to a community is something I never tire of. It gets me out the door each morning with a smile on my face. Simply put, I love what I do.
AC: Prior to working here, you were programming manager and event producer for the Proctors Theatre Collaborative in Schenectady, New York. How does that work compare to what you're doing here?
SP: At Proctors I was focused on just the one area of programming and producing. This was a great experience, but being an executive director allows me to utilize all the infrastructure and resources for community building, access, and inclusion. There are opportunities to make change for this community that the Capitol Center can play its part in, and I am thrilled to help lead some of those changes.
AC: As executive director of the Capitol Center, what does a typical day look like for you?
SP: There are no typical days. That is one of the aspects of this position that I really enjoy, but I would say that most days right now consist of building new relationships in the community, addressing concerns, working with the team on innovative approaches to current issues, and projecting positivity!
AC: The Capitol Center for the Arts operates two venues, the larger 1,300-seat Chubb Theatre and Kimball House and the new, more intimate Bank of N.H. Stage in the former Concord Theater. How does the vision for programming differ for those spaces?
SP: That is a great question and one that Sheree Owens (our Programming Director) and I think about on a regular basis. The fact of the matter is that in a community the size of Concord you have to think about the venues serving all your population. Sure, the BNHS will have a focus on the younger up-and-coming bands and artists that make sense in the space, but the mission of the organization must be to serve all the community, so we have taken steps to diversify the programming in both spaces. Ideally, we want both venues to be eclectic and inclusive in what we offer to the public. The vision is the same for both spaces. The avenue of achieving that vision differs based on capacity, hard costs etc.
AC: What do you think the Capitol Center was doing well before your arrival that you hope to build on?
SP: The Capitol Center has such a devoted and enthusiastic support system. The citizens of Concord really did band together in a grassroots effort to save the building in a way you just don't see in many other places. CCA has always been a patron-first organization. I want to make sure we foster that support and continue to build upon that through innovation and engagement.
AC: Do you have any projects you're working on that you're particularly excited about?
SP: There are a bunch of projects we have in the works that we'll be debuting soon, but one I am particularly excited about is the culinary artist in residence program we are going to debut at the end of 2022. To make a very long story short, we have two commercial kitchens that are underutilized and could be put to use with a great purpose. We'll be working with members of the New American community to provide access to our spaces and feature new entrepreneurs who have the desire but don't have the means to open their own brick-and-mortar location. They will have access to our kitchens for a set period of time, to set up and run their own restaurant business via the Ghost kitchen model. This will allow them the time and experience they need to build up the following and gain the capital they require to open their own location. The city benefits with new culinary options, and the CCA benefits with great food offerings for our patrons. It is a win-win all the way around.
AC: Are there any new directions you're looking to explore?
SP: There are so many new directions I am thrilled to be taking this organization in. If you look at a performing arts center as more of a content provider and community builder, then whole new worlds of possibilities open up. In the coming months, we'll be hosting Interactive Events, E-Sports, Podcasts, and we'll be presenting directly to our community outside our walls with the Market Days concert featuring Vertical Horizon on June 25.
AC: The coronavirus pandemic obviously had a huge impact on arts venues. In particular, the Bank of N.H. Stage had been opened for just a few months before its doors were shut by stay-at-home orders. Now that the pandemic appears to be waning, what do you see as the way forward for venues?
SP: Just like any other major global event in our history, change is implemented much quicker than in normal times. Performing arts centers must adapt to that change quickly in order to survive. I don't believe we have arrived at a place that we have replaced the live experience, but what we must do is adapt to offering what the next generation of live event-goers are interested in attending. Tools like mobile ordering, cashless purchasing, zoom patron forums, and streaming performances are things we couldn't have possibly implemented just 3 years ago, and yet they are part of the normal process now.
AC: What was it like stepping into a new leadership role amid all the uncertainty the pandemic was hurtling at businesses?
SP: Well, it is certainly is a test of my ability to adapt and multi-task. I arrived in December and by January we had canceled every performance to start out the year. Despite the uncertainty around us, my goal was to project realistic positivity and keep the team encouraged. Better days were coming and by March we were back to full shows and happy patrons. One day I might look back on this and reflect how intense it was to take on a new role in the midst of a pandemic, but living through it was a challenge I relished.
AC: Do you think there are things venues should consider doing to better prepare for any future disruptions?
SP: Diversification in the way you provide content to your community will be a key to surviving future disruptions. If venues can offer quality content online and manage to keep audiences engaged with or without the pandemic, they will be better positioned for a pandemic, economic downturn, or whatever comes next.
AC: In what ways do you think the pandemic has shifted audience's expectations of entertainment venues?
SP: The adaptation of technology has definitely been expedited during the pandemic. I don't think people would be surprised at all if a venue presented an "at Home" series as part of their offerings now. The idea of a venue having to be a traditional experience has gone out the window.
AC: Have you been seeing different requirements from performers lately or do they seem to be getting back to 'business as usual'?
SP: Most performers have gotten back to usual, which does provide a bit of a solid ground in otherwise rocky seas. It gives us some barometer of where we are at when we take the temperature of the general state of things.
AC: Just a few decades ago, Concord was nicknamed "city in coma" – especially when compared to other New Hampshire cities like Portsmouth and Manchester. Many people have worked hard since then to help revitalize both downtown and the wider arts community. What do you think the city has done well to foster its arts scene? Where do you see room for improvement?
SP: The city has done a fantastic job of rebuilding the infrastructure and look of the city. Main Street was once a two-lane per side road that people just flew down. Now having one lane per side with the brick center completely changes the feel of the street. When you combine that with the investment developers have made to restore buildings downtown, it really gives the city a nice charm.
What I would like to see next is the incorporation of more art into the infrastructure. When visiting cities like Austin, NYC or LA murals and public art is an integral part of what makes the city feel vibrant. There are so many up-and-coming BIPOC artist voices that can be part of the future of this city and to think about what kind of environment we can foster if some of those voices are part of the conversation. That is what I am excited to play a role in.