At 21 chosen sites in the Granite State, history and nature combine for a well-rounded education through a program of trails and exhibits
Don't let the name fool you.
Yes, the New Hampshire Heritage Museum Trails include hiking, and offer walking paths through the natural beauty of the Granite State.
But there's so much more, says Jeff Barraclough, who was named the New Hampshire Heritage Museum Trails president four years ago. The organization's jurisdiction covers 21 sites, which are separated into three geographical groups in New Hampshire: Merrimack Country, Lakes Region and Seacoast.
Some destinations highlight hiking, others display artifacts that are tens of thousands of years old, and still others examine the Granite State's contributions in several areas, including auto racing and flight, as well as its role in the Second World War.
In short, don't let the word 'trails' in the title fool you, Barraclough says, because hiking is just a piece of this lavishly packaged smorgasbord of learning, both inside the museums and outside on their property.
"The term trails is used loosely, not for a specific route to take that connects all of them," Barraclough said. "These are all different, and you can choose to see several a day or use a week. Tourists can visit them all."
Out-of-state visitors who are passionate and curious about local history in small towns will certainly need to familiarize themselves with this collaborative effort, created nine years ago.
Despite featuring a consortium of different museums and themes, all 21 are linked by the New Hampshire Heritage Museum Trails with one central aim in mind.
"Our goal is to make more people aware of these important cultural resources and encourage residents and tourists alike to visit these museums and see all they offer," Barraclough said. "We were looking for ways to work together and promote what we have and tell people to visit."
The Heritage Museum Trails was formed in 2014 to share resources and better promote programs, exhibits, and events. Aside from preserving the history and heritage of New Hampshire, individual museums on The Trail are "remarkably diverse," from one another, Barraclough said.
"Some museums cater more to families, while others may be more suitable for adult visitors," said Barraclough. "All of us, however, work very intentionally to create high-quality programming and experiences that we believe enhance people's overall quality of life."
Barraclough, who doubles as the executive director of the Millyard Museum in Manchester, is deeply invested in calling attention to the 21 locations, which include Canterbury Shaker Village and the New England Racing Museum in Loudon, the two attractions located closest to Concord.
Also featured on the 21-site journey is the Wright Museum in Wolfeboro, a compelling and detailed look at the Granite State's role during World War II; the Belknap Mill in Laconia; and the Manchester Millyard.
Perhaps the most awe-inspiring visual is the massive, cigar-shaped submarine at the USS Albacore Museum in Portsmouth. The Albacore, the prototype for the Navy's nuclear-powered research submarine force, was the first boat built specifically to operate underwater.
The sub was designed, built and maintained by engineers and craftsmen at the Portsmouth Naval Shipyard, serving as a platform from 1953 to 1972 for testing propulsion systems, sonar equipment, dive brakes and other equipment.
The Albacore was moved to Philadelphia's Inactive Ship Facility following its decommissioning in 1972, before Portsmouth City Councilman Bill Keefe led the charge to bring the Albacore to her birthplace as a permanent display.
The Albacore began its journey to the Portsmouth Naval Shipyard in May of 1985, maneuvering over a dismantled railroad bridge and a cutout section of a four-lane highway along the way.
Six months later, the Albacore found its new home on a concrete base in Portsmouth, one of 21 sites that form the New Hampshire Heritage Museum Trails.
The Albacore Museum is open seven days per week, beginning at 9:30 a.m. The last tickets of the day will be sold at 4 p.m.
The price to visit each site has an aggregate cost of $150, but a $25 'passport' allows customers to visit all trails and each of the 21 museum sites for up to one year.
Barraclough said the network of attractions drew about 200,000 visitors a few years ago, before the pandemic.
"We're close to that number again," Barraclough said. "It's great to be back to normal."
Hit the history trail
LAKES REGION
New Hampshire Boat Museum: 399 Center St. Wolfeboro, nhbm.org. Memorial Day through Columbus Day: Monday through Saturday, 10 a.m. to 4 p.m., and Sunday, noon to 4 p.m.
Remick Country Doctor Museum and Farm: 58 Cleveland Hill Rd., Tamworth remickmuseum.org. Open daily 10 a.m. to 3 p.m.
The Libby Museum: 755 N. Main St., Wolfeborowolfeboronh.us/libby-museum-natural-history. Open June 1 through Labor Day, Tuesday through Saturday, 10 a.m. to 4 p.m. and Sunday noon to 4 p.m.
Museum of the White Mountains: 34 Highland St., Plymouthplymouth.edu/mwm. Open Tuesday through Friday, 10 a.m. to 4 p.m.; Saturdays 11 a.m. to 4 p.m. Closed Mondays, Sundays, and university holidays.
Castle in the Clouds: 455 Old Mountain Rd., Moultonboroughcastleintheclouds.org. Open May 27 to Oct. 22, Thursday through Monday 10 a.m. to 4 p.m.
Belknap Mill: 25 Beacon Street East, Laconiabelknapmill.org/museum. Monday through Friday, noon to 5 p.m.
Wright Museum of World War II: 77 Center St., Wolfeborowrightmuseum.org. Open daily May 1 through Oct. 31, Monday through Saturday 10 a.m. to 4 p.m. (last admission 3 p.m.); Sunday noon to 4 p.m. (last admission sales 3 p.m.)
Lake Winnipesaukee Museum: 503 Endicott Street, Laconialwhs.us/museum.htm. Open seasonally from mid-June through Columbus Day weekend. Wednesday through Saturday 10 a.m. to 4 p.m.
MERRIMACK VALLEY REGION
Aviation Museum of New Hampshire: 27 Navigator Road, Londonderrynhahs.org. Open Fridays and Saturdays, 10 a.m. to 4 p.m., and Sundays, 1 p.m. to 4 p.m.
Canterbury Shaker Village: 288 Shaker Road, Canterburyshakers.org. In May and June, indoor guided tours take place at 11 a.m, 1 p.m. and 3 p.m., Tuesday through Sunday.
Currier Museum: 150 Ash St., Manchestercurrier.org. Hours are Wednesday, Friday, Saturday, Sunday 10 a.m. to 5 p.m. Thursday 10 a.m. to 8 p.m.
Lawrence L. Lee Scouting Museum and Max Silber Scouting Library: 395 Blondin Road, Manchesterscoutingmuseum.nhscouting.org. Wednesdays, 10 a.m. to 4 p.m. and Saturdays, 10 a.m. to 3 p.m.
Manchester Millyard Museum: 200 Bedford St., Manchestermanchesterhistoric.org. Tuesdays through Saturdays, 10 a.m. to 4 p.m.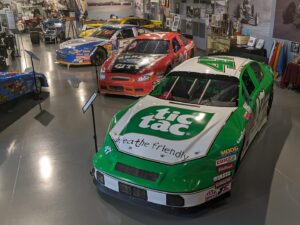 New England Racing Museum:  922 Route 106 N., Loudonnemsmuseum.com. Saturdays 10 a.m. to 4 p.m.
New Hampshire Historical Society: 30 Park St., Concordnhhistory.org. Thursday, Friday, and Saturday, 9:30 a.m. to 5 p.m.; Closed on federal holidays
SEACOAST
USS Albacore: 569 Submarine Way, Portsmouthussalbacore.org. Open daily 9:30 a.m. with last ticket at 5 p.m.
American Independence Museum: 1 Governors Ln., Exeterindependencemuseum.org. May through November, Wednesdays through Saturday, 10 a.m. to 4 p.m.
Moffatt-Ladd House and Garden: 154 Market St., Portsmouthmoffattladd.org. Open daily, 11 a.m. to 4 p.m.
Portsmouth Historical Society: 10 Middle St., Portsmouthportsmouthhistory.org. Open Memorial Day to Indigenous Peoples Day, daily 11 a.m. to 5 p.m.
Woodman Museum: 182 Central Ave., Dover woodmanmuseum.org. April to November, Wednesdays through Sundays 10 a.m. to 5 p.m.
Strawbery Banke: 14 Hancock St., Portsmouthstrawberybanke.org. May, June, September, October open weekdays, 10 a.m. to 4 p.m. and weekends/holidays, 10 a.m. to 5 p.m.; July and August 10 a.m. to 5 p.m. daily