THE CONCORD COMMUNITY MUSIC SCHOOL OFFERS A PROFOUND MUSICAL EXPERIENCE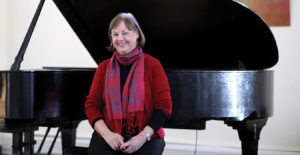 Until I met Peggy Senter, founder and president of the Concord Community Music School, I thought a music school offered only instrument lessons such as piano, violin, and guitar. But the 34-year-old school offers so much more and has grown to become a center for community arts education.
Peggy's idea to start a community music school came from America's historic settlement movement. Settlement houses, such as Chicago's Hull House cofounded by Jane Addams, were established around the turn of the 20th century. Other similar houses sprang up in major cities throughout the country and served primarily to help new immigrants feel at home in America through language lessons and other services.
It became clear that no matter their country of origin, immigrants found musicmaking their shared language. The Community Music Center of Boston (formerly the South End Settlement) is still in existence. Others in Philadelphia, Cleveland, and New York survive as major community arts organizations and are proudly celebrating 100- and 125-year anniversaries.
Peggy's idea took flight in 1984. From the start it was the community that helped build it—the founding faculty, trustees, and original supporters, many of whom remain involved today. If Jane Addams knew of the school's impact in serving participants of all backgrounds, she would be immeasurably proud.
On a frigid day after a big winter storm, one would think it might be a quiet day at the school, expecting teachers and students alike to use the wintry conditions as a reason to stay at home. However, as soon as I closed my car door, I heard a panoply of song and music coming from inside the building. I joined several young adults running up the stairs carrying their instrument cases and backpacks. The closer I came to the main door, the more the music and voices swelled. This sounds like it's going to be fun, I thought.
BUILDING COMMUNITY THROUGH MUSIC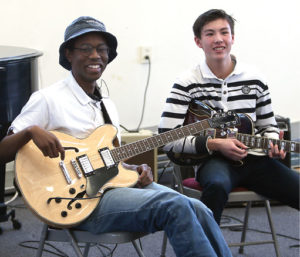 Echoes of clapping and laughter drifted from the Women's Ensemble in the Community Room. I turned a corner, and Peggy greeted me with a gracious smile and asked if I was ready for the tour. Her choice for the schedule turned out to be a distinguished lineup of faculty members and some incredible programs.
Although the hallways are reminiscent of a typical school, it does not sound or feel at all typical. Sounds of a fast-paced piano came from behind one door. A violin hummed behind another. A couple of times Peggy stopped to peer through the glass in the closed door's upper half. She then waved to students and teachers. "I like strolling like this," she said. Clearly, she enjoyed what she saw, and heard.
The Concord Community Music School's mission is twofold. First, it is to build community through music. Second, its goal is to accomplish this by providing the fullest possible array of musical experiences for people of all ages, musical abilities, and backgrounds. The breadth of the school's programs is impressive.
Right from the school's beginning, Peggy was ambitious. After only three years, a devoted and hardworking board of trustees purchased the school's first building in 1987, a former church and rectory located at 23 Wall Street. While buying a building is a risky endeavor for any fledgling business, the support from the faculty and the community gave the board the confidence that the school would continue to grow.
The school eventually required an expansion. In 2001, an addition doubled its size. The current 23,000 square feet of space includes a Community Room, teaching studios, larger ensemble rooms, business offices, and a recording studio. In the Recital Hall, the room that was once the church sanctuary, a shiny black grand piano graces the stage.
Each week, 1,600 participants work with the school's faculty of 50 career musicians, many of whom have been recruited nationally. Their credentials are impeccable. Many of them have master's and other advanced degrees, including from the Juilliard School and the New England Conservatory of Music. They have studied under notable professionals, have their own recordings, and have performed in Europe, Asia, Canada, and across the United States. The Concord Community Music School is one of the largest private employers of musicians in northern New England.
EVERYONE HAS A VOICE
The faculty members teach students at all levels. Some students seek traditional music lessons, be it instrument or voice, and may be on track to attend college music programs and become professional musicians. Fifty-nine percent of participants receive free or reduced-cost instruction because of low income, a number that includes participants with special needs. A long list of dedicated donors and funders support the school's mission with grants and charitable gifts.
Lessons are offered for 20 different musical instruments. Programs include an individual instruction curriculum that serves more than 400 students, 15 instrumental ensembles, and 5 choruses. Students' ages cover the life span. There is a music and movement program for infants. The Purple Finches Youth Chorus includes kindergarteners through eighth graders. Teens have folk and jazz ensembles. The school has students in their eighties and nineties. "There is room at the table for everyone," Peggy says.
There are Jazz Jam sessions, the March Mandolin Festival, Summer Music Camps, and a Fall Fiddle Festival. Recitals, concerts, and other performances are open to the public. Some events are ticketed. The catalog and extensive list of events are found at www.ccmusicschool.org.
Peggy emphasizes that the school serves everyone for the simple reason that everyone has a voice, be it vocal or instrumental. The faculty's unstoppable drive is fueled by this philosophy. It is the school's mission to keep developing inventive programs that offer new ways for students and participants of all backgrounds to find their own form of self-expression.
HELPING STUDENTS REACH THEIR POTENTIAL
The teachers and students at Concord Community Music School are extraordinary. The school surprised me from the start of my visit and the surprises did not end. David Surette has been a faculty member in the folk department for 26 years. He teaches 20 weekly private lessons and multiple folk ensembles, leading with his guitar, mandolin, and ukulele. Some of his students have gone on to collegiate music schools, including Boston's Berklee College of Music. As a professional musician, David also teaches internationally in festivals and music camps, and performs frequently in a duo with his wife, Susie Burke.
Peggy and I joined a music therapy session in progress. Music therapist Julieann Hartley and her student Sarah, an adult with Down syndrome, were sitting at the piano. Julieann said that Sarah writes lyrics and poetry and then Julieann works with her on the musical composition. Julieann played the piano while Sarah sang her newly composed rap song. Afterward, I shook hands with Sarah and congratulated her on her remarkable songwriting. Peggy gave Sarah a high five. Both of them could not have looked happier.
Julieann directs the school's music therapy program. She is a board-certified music therapist, one of only ten in the state. Although the numbers of music therapists are growing, the need is great. This young woman exudes a passion for what she does. Julieann has helped newborns with neonatal abstinence syndrome, a group of conditions that are the result of drug exposure in the womb. Music therapy has been found to help babies during drug withdrawal. Studies show that with music therapy, their hospital release may be hastened by almost two weeks.
Julieann has released a CD to help a broader group of young children reach their learning and developmental potential. While some of these conditions can be very emotional for her to see, Julieann focuses her attention on the improvements, which helps her maintain an enthusiastic outlook. Watching her sing with Sarah was evidence of that.
Peggo Horstmann Hodes has been a voice teacher at the school for 33 years. She directs Songweavers, a chorus of 120 women. The idea of this group was inspired by Dr. Ysaÿe Barnwell, a nationally renowned American composer and the creator of the Building a Vocal Community program, which is based on offering untrained singers an opportunity to explore their voices. Women travel to this session from up to two hours away. Some members are new Americans from Asia, Europe, and Africa. The method is to learn songs by ear using no sheet music. The women's beautiful harmony inspires Peggo every day.
Sitting in on a private voice lesson gave me a new appreciation of voice training. Teacher Ellen Nordstrom is a trained opera singer and has a distinctive speaking voice: her diction is clear; her voice carries. As she instructed Sophie, a high school student training for an audition, she alerted Sophie to avoid "shadow vowels," like a sloppy add-on to the word me, making it sound like me-ah.
Facing a mirror as she sang, Sophie held beautiful composure. Her singing voice became clearer and stronger. Ellen also coached Sophie on moving her body in a way that reflected the emotion in the lyrics. Peggy leaned forward in her seat as she watched Ellen and Sophie with an intense focus.
Beyond the walls of the Concord Community Music School, tens of thousands of people have been reached. In 1998, the school launched the Music in the Community Initiative. Aiming to reach those who could not come to Concord, the school developed strong partnerships with many important organizations, such as Laconia Head Start and Riverbend Community Mental Health. Concord Community Music School has reached school districts across New Hampshire and other educational and human service organizations, mainly through music therapy and dance movement therapy.
It was late afternoon when I left the school. Throughout the studios and ensemble rooms, the voices and music continued. Once outside, a stream of students, young and old, rushed up the stairs. Seeing their energy, I felt excited for them, having some idea what they had to look forward to.