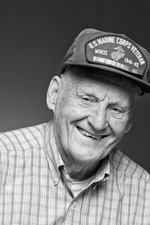 Rodman Wilson, who served as a helmsman in the Pacific with the Merchant Marine, says of all the horrors, the kamikaze planes were the scariest thing for him. You never knew where or when they would strike. His group lost three ammo ships to these suicide pilots.
The SS John Burke on December 28, 1944, when a kamikaze plane disintegrated the ship; 71 crew members were lost when the munitions it was carrying detonated.
The SS Lewis Dyche on January 4, 1945, anchored in Magrin Bay, Mindoro, when a kamikaze plane flew in, exploding the cargo of ammunition; the ship and the 75- to 80-man crew were lost.
The Kyle V. Johnson on January 12, 1945, heading for Lingayan Gulf, Luzon, in a 100-ship convoy. Rodman saw the saw kamikaze plane come down and plow through the starboard side of the ship. Troops numbering 128 as well as ammo and fuel were lost.