Out on the Town
Holiday celebrations in Manchester
by Susan Nye
Enjoy these great recipes from some of Manchester's most popular hot spots.
Milltown Mussels
From Ignite Bar & Grillebr
br
4 oz butter
1 Tbsp chopped fresh garlic
1 large handful crushed tomatoes and juice
Italian seasoning to taste
Red pepper flakes to taste
3/4 cup white wine
1 lb fresh mussels
1. Combine the butter, garlic, crushed tomatoes, Italian seasoning, and pepper flakes in a large pan or skillet. Set over medium-high heat and cook, stirring, until the butter melts.
2. Stir in the white wine. Add the mussels to the pan. Cover and let cook for about 5 minutes or until the mussels open. Serve immediately with grilled garlic or Italian bread to soak up the wonderful broth.
Scallops Ceviche
From Firefly American Bistrobr
br
Juice of 6 limes
1/4 cup extra-virgin olive oil
1/2 bunch fresh cilantro, picked, chopped
1 red bell pepper, finely diced
2 jalapeño peppers, seeded, minced
1 small Spanish onion, minced
1 ripe tomato, seeded, finely diced
Salt and pepper to taste
1 lb fresh sea scallops
br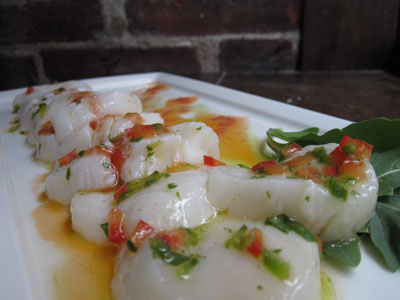 1. Combine all ingredients except the scallops in a small mixing bowl.
2. Add the scallops and submerge in the mixture. Cover tightly and refrigerate overnight. Serve on a white plate with splashes of cilantro-infused olive oil and tomato vinaigrette.
Spicy Feta
From Republic Cafébr
br
1 lb feta cheese
1 bell pepper, roasted, seeded, and skinned
1 Tbsp chopped dill
1 Tbsp lemon juice
2 Tbsp harissa*
1/4 cup extra-virgin olive oil
br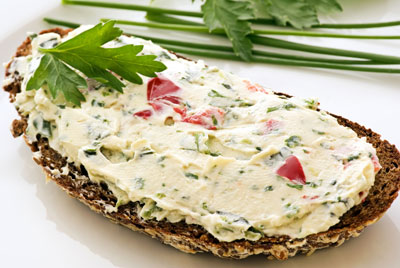 Put the feta in a food processor and process to crumble the cheese. Add the pepper, dill, and lemon juice; process to combine. Add the harissa and then slowly add the olive oil. Blend until creamy. Serve on a hearty piece of brown bread or pita bread.
*Harissa is a pepper paste or pesto. It can be purchased at Asian markets.
Pan-Fried Crab Cakes with Honey Chipotle Aioli & Black Bean Corn Salsa
From Cotton
Photo by Brian Smestadbr
br
1/2 cup mayonnaise
1-1/2 Tbsp Dijon-style mustard
1-1/2 Tbsp fresh lemon juice
1 tsp kosher salt
1 tsp coarse ground black pepper
1 tsp onion powder
3 scallions, thinly sliced, green only
1 extra-large egg
1 lb snow crabmeat
1 lb lump crabmeat
1-1/2 cups fresh breadcrumbs
Dried breadcrumbs
br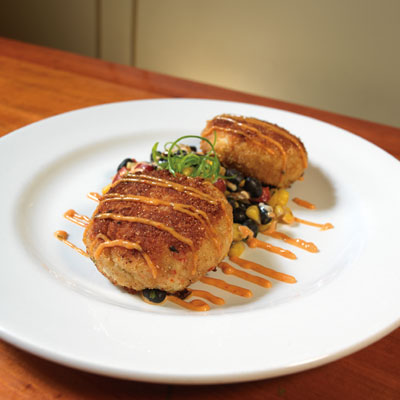 1. In a mixing bowl, whisk together the mayonnaise, mustard, lemon juice, salt, pepper, onion powder, scallions, and egg.
2. Gently drain the excess water from the crabmeat. Put the crabmeat, fresh breadcrumbs, and the wet ingredients in a large mixing bowl. Gently combine, being careful not to over mix.
3. Shape into 12 cakes. Transfer the crab cakes to a waxed paper-lined baking sheet. Cover and chill at least 4 hour and up to 1 day.
4. Preheat the oven to 250°.
5. Gently coat half of the crab cakes with dried breadcrumbs. Heat half of the vegetable oil in a large sauté pan over medium-high heat. Add half of the crab cakes and cook until golden-brown, approximately 4 minutes per side. Transfer to a sheet pan and hold in the oven while you repeat the process and cook the remaining crab cakes.
Honey Chipotle Aiolibr
br
3–4 chipotle peppers in adobo sauce
1 Tbsp honey
1 cup mayonnaise
br1. Combine the chipotle peppers and honey in a blender and process until smooth. Press the mixture through a strainer to remove the seeds.
2. In a mixing bowl, combine the chipotle honey puree with the mayonnaise. Refrigerate until ready to serve.
Black Bean Corn Salsabr
br
2 (15-ounce) cans black beans, drained and rinsed
2 cups fresh or frozen (thawed) corn kernels
1/2 cup small-diced green bell pepper
1/2 cup small-diced red bell pepper
1/4 cup small-diced red onion
1 Tbsp chopped garlic
1 level tsp ground cumin
1 level tsp ground light chili powder
1/2 tsp Tabasco sauce
1/4 cup vegetable oil
2 Tbsp cider vinegar
1 Tbsp chopped fresh cilantro
Kosher salt and freshly ground black pepper to taste
br1. In a large mixing bowl, combine the black beans, corn kernels, bell peppers, and red onion.
2. In a small mixing bowl, combine the remaining ingredients and mix well. Gently fold the liquid mixture into the beans and vegetables, mixing well. Season to taste with kosher salt and pepper. Refrigerate until ready to serve.
To serve: divide the Black Bean Corn Salsa evenly among six plates. Place two crab cakes on top of the salsa. Top the crab cakes with a dollop of the Honey Chipotle Aioli and serve immediately.