5 Festive Cocktails

Nov 14, 2010 02:58PM ● Published by Erin Frisch
Welcome friends and family with a toast to the season. Set up a simple bar on a side table or buffet with a few basic ingredients and mix up some holiday favorites.
CHRISTMAS COSMO
1/2 oz Cointreau
1/2 oz cranberry juice
1 tsp fresh lime juice
1 oz Vodka
Place all ingredients in a shaker with ice. Shake and strain into a chilled martini glass. Garnish with a few frozen cranberries after pouring.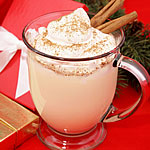 WHITE CHRISTMAS
4 oz eggnog
1/2 oz white chocolate liqueur
1 oz Southern Comfort
Serve in a snifter and sprinkle with grated chocolate.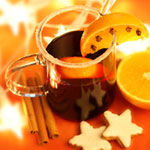 HOT BUTTERED WINE
3/4 cup red wine
1/3 cup water
2 tsp maple syrup
1/2 tsp butter
Heat wine and water to near boil. Preheat a heatproof glass or mug. Pour the hot wine/water mixture into the glass and add butter and maple syrup. Stir and enjoy. Garnish with nutmeg.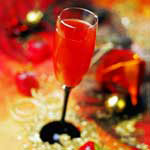 HOLIDAY BELLINI
4 oz champagne (chilled)
1 oz apricot nectar or liqueur
Pour apricot nectar or liqueur into a champagne flute. Fill to the top with cold champagne and stir gently. The apricot color is darker than the usual peach nectar and makes this version of the Bellini more festive.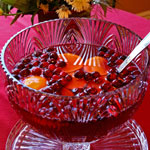 FESTIVE PUNCH
(Non-alcoholic)
Makes about 35 servings
4 oz grenadine
2 liters of club soda
2 liters of ginger ale
1 container (355 ml) frozen lemonade concentrate (thawed)
1 container (355 ml) frozen orange juice concentrate (thawed)
1 jug (1.89 L) cranberry/raspberry cocktail
1 jug (1.89 L) pineapple juice
1 jug (1.89 L) cranberry cocktail
Cranberries, orange and lemon slices, for garnish
Combine all ingredients in a large punch bowl. Keep a bottle of vodka or rum nearby to allow your guests to make their serving alcoholic.
Today
,
Food+Drink
recipes
holidays