Matthew and Jenny Mead turn to natural touches to make their holiday home sparkle with simplicity.
Produced, photographed, and written by Matthew Mead • www.matthewmeadstyle.com
Christmas for us is a time to embrace all things natural. We like to gather living plants and evergreens from local nurseries and use our simple mercury glass and silver pieces to keep our rooms easy and pretty. We enjoy spending our time wrapping special gifts collected at the local antique stores and making cookies to give as gifts to friends and family. Fresh flowers are a must as are candles, boxwood wreaths, and holiday casseroles that allow us to entertain at a moment's notice.
"Few ornaments let the natural elements take center stage." —Matthew and Jenny Mead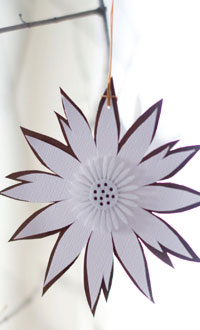 Ornaments cut from paper to hang on a twig tree. Cookies made from basic pantry items. Icing and coconut make them look like they have been dusted with snow. Living trees are corraled in buckets and ironstone pieces from my collection. We are drawn to a very monochromatic colorway punctuated by fresh greens. An old water fountain base in porcelain makes a slender and chic tree stand for a fresh-cut spruce.
Jam Thumbprints
Makes three dozen cookies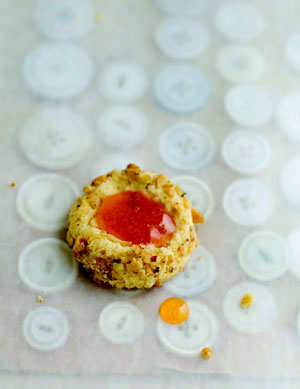 br
br
2/3 cup unsalted butter, room temperature
1/3 cup granulated sugar
2 egg yolks
1 tsp vanilla
½ tsp salt
1½ cups all-purpose flour
2 egg whites, slightly beaten
¾ cup walnuts, finely chopped
¾ cup seedless apricot jam
br
br
Preheat oven to 350°.
In a large mixing bowl, cream together butter and sugar, using an electric mixer on high speed, until light and fluffy. Add egg yolks, vanilla, and salt. Beat well, then switch to low speed and gradually add flour until dough forms.
Shape into 1-inch balls, dip them in the egg whites, and then roll balls in the walnuts, covering the entire surface of each cookie. Place 1 inch apart on greased cookie sheet. Press center of each cookie with thumb to make imprint.
Bake for 15 to 17 minutes. Let cookies cool 2 minutes on baking sheet, and then transfer to wire rack. While still warm, fill imprints with jam. Let cool completely.
br

Green ribbons are collected all year long to add style to gifts and wreaths. Matthew prefers living greens as the shedding is minimal and the look is lasting right into February. Apricot thumbprints are a prized sweet to have at home and to give as gifts. The recipe is from Janet Dubuc, an invincible cookie baker and mother to my assistant, Lisa Bisson.