Kristen Kennedy Opens Unique Jewelry Shop on Warren Street

Jun 19, 2014 04:04PM ● Published by Olivia Painchaud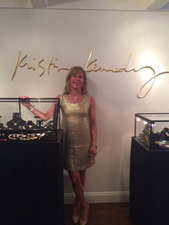 Kristen Kennedy, owner of
Kristen Kennedy Fine Jewelry Design
, has now opened a quaint shop in downtown Concord.
Kristen has been making jewelry her entire life but when she moved here in 2000, she began selling her carefully crafted pieces locally. After a major increase in demand, Ms. Kennedy moved out of her basement and opened up shop on Warren Street in Concord to accommodate her loyal customers.
Kristen doesn't make your average run of the mill pieces. All her jewelry is carefully crafted by hand in her workshop and inspired by nature and its organic element, as she enjoys the sculpting involved in it's creation.
All pieces she crafts began as an intricate wax mold that she then fine tunes to make them extraordinary and unique. Kristen explained that the South Sea Pearls are particular stones she enjoys working with because of their organic shape. The Multicolored sapphires are also intriguing due to the array of colors they provide. "I love the clashing colors of opals too" she mentioned while describing all of the beautiful stones she works with.
The time put into each piece is lengthy and depends on the specific design, but can take six to eight hours to complete but she challenges herself every season to create new and interesting designs and believes that is what makes her work special. Her new shop, located at 30A Warren Street, is open to all who wish to stop by and talk shop. Just make sure to ask her about her personalized wedding rings for those couples looking for a truly unique ring.
Ms. Kennedy has also been featured in the
New Hampshire Chronicle
.
Today
,
Community
local business